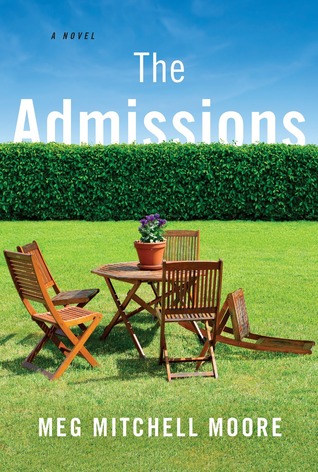 Title: The Admissions
Authoress: Meg Mitchell Moore
Format: Print
Length: 320 pages
Publisher: Doubleday
Rating: 4 Stars
One of PEOPLE magazine's Great Beach Reads: "This novel about a striving, upscale California family is a bracing entertainment that zeroes in on the modern pressures put on teens--and their folks."
The Hawthorne family has it all. Great jobs, a beautiful house in one of the most affluent areas of northern California, and three charming kids with perfectly straight teeth. And then comes their eldest daughter's senior year of high school . . .
Firstborn Angela Hawthorne is a straight-A student and star athlete, with extracurricular activities coming out of her ears and a college application that's not going to write itself. She's set her sights on Harvard, her father's alma mater, and like a dog with a chew toy, Angela won't let up until she's basking in crimson-colored glory. Except her class rank as valedictorian is under attack, she's suddenly losing her edge at cross-country, and she can't help but daydream about the cute baseball player in English class. Of course Angela knows the time put into her schoolgirl crush would be better spent coming up with a subject for her term paper—which, along with her college essay and community service hours has a rapidly approaching deadline.
Angela's mother, Nora, is similarly stretched to the limit, juggling parent-teacher meetings, carpool, and a real-estate career where she caters to the mega rich and super-picky buyers and sellers of the Bay Area. The youngest daughter, Maya, still can't read at the age of eight; the middle-child, Cecily, is no longer the happy-go-lucky kid she once was; and the dad, Gabe, seems oblivious to the mounting pressures at home because a devastating secret of his own might be exposed. A few ill-advised moves put the Hawthorne family on a heedless collision course that's equal parts achingly real and delightfully screwball.
Sharp and topical, The Admissions shows that if you pull at a loose thread, even the sturdiest of lives start to unravel at the seams of high achievement. - Goodreads
My Thoughts
This book may start with the story of Angela and her quest to graduate top of her class; following her father's footsteps down the hallowed halls of Harvard.
But one quickly comes to realize that what readers are being presented with in The Admissions, is a complete picture.
A complete picture of a family, lives, lies, secrets, and a complex interconnectedness that can be either nurtured or destroyed by the things left unshared, unsaid, and unheard.
Angela...gifted, overachieving, driven.
Angela...stressed, tired, afraid, alone, insecure.
As the central character of this story, it is very easy to see how the author uses both the seen an unseen aspects of the players in this drama to both tell and enrich the story.
Told in the voices of every member of the upper class Marin County, California family, this is a story that discloses its secrets slowly, but makes its charm, emotional depth, and relatability evident from page one.
This is essentially the story of the swan swimming across a tranquil pond. All grace and beauty on the surface, while paddling like hell underneath.
The fact that authoress Meg Mitchell Moore chooses to give everyone a separate and distinct voice in this read acts as both a blessing and a curse for readers.
A blessing, when secrets, revelations, and individual 'need to know's' happen.
A curse, during lulls in the plot.

This is a wonderful book for those people who enjoy the emotionally complex, layered, and mercurial nature of the family drama.
About Meg
Meg Mitchell Moore worked for several years as a journalist. Her work has been published in Yankee, Continental, Women's Health, Advertising Age and many other business and consumer magazines. She received a B.A. from Providence College and a master's degree in English Literature from New York University. The Arrivals is her first novel. Her second novel will be published by Reagan Arthur Books in 2012. Meg lives in Newburyport, Massachusetts, with her husband, their three children and a beloved border collie.