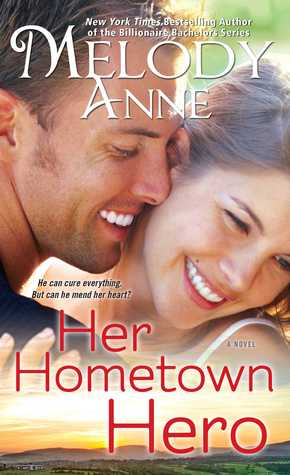 Title: Her Hometown Hero
(Unexpected Heroes #2)
Author: Melody Anne
Format: Print
Length: 384 pages
Publisher: Pocket Books
Date of Publication: June 30, 2016
Rating: 4 Stars

Dr. Spence is searching for the perfect woman…but how will he know when he's found her? From New York Times bestselling author Melody Anne, the second steamy romance in a new breakout series based on her beloved and bestselling Billionaire novels.

In the bestselling books Billionaire Wins the Game, Hidden Treasure, and The Billionaire's Marriage Proposal, among others, we met the Andersons. Matchmaking patriarchs Joseph and George took matters into their own hands to get their sons to marry and settle down. But now that Dr. Spence Whitman sees how happy his Anderson friends are in married life, he's itching to get hitched too! But how will he find The One?

After his wealthy dad adopted him and his two brothers at a young age, Spence grew up learning there are more important things in life than money. He wants to find a girl who shares that philosophy, and it wouldn't hurt to have some similar interests too. Now if he could just stop getting distracted by his gorgeous surgical resident, he could start looking for the perfect wife… -Goodreads

My Thoughts
Her Hometown Hero is...in a word...sweet!
From its matchmaking elders and sheltered, naive, heroine; to the strong, caring, and uber persistent doctor determined to win her. This is a story hand crafted to melt reader hearts.

The last thing that surgical resident Sage Banks wants to do is go home to Sterling, Montana to complete her medical training. But when duty, or in this case, her beloved grandmother calls; with news of her (ahem) illness. Sage feels that she has no choice but to return.

What Sage has no way of knowing however, is that by coming home, she is putting herself in the sights of one Dr. Spencer Whitman. A man who will serve as her teacher, mentor, lover, friend, and more, if those choosing to play Cupid have anything to say about matters.


Authoress Melody Anne, writes characters who are perfect in their imperfection, and at their strongest while in the midst of their frailty. Such is the appeal of Sage. She makes no bones about the fact that she is a stranger to the ways of both love and sex. She is also very up front about the fact that Spencer makes her want to change that. The truth of her naivety in the carnal sense, is never allowed to overshadow her extreme intelligence and capability in other areas of her life.

It is Sage's skittishness in the face of Spencer's grand gestures, compassionate nature, and good looks, that gives authenticity to this "thrill of the hunt" romance. The first 75% (Kindle approximation) of this book is utter romantic perfection. With Spencer answering every call of his young lady love's heart with a speed and panache that would put the sixth sense granted to Luke Skywalker by The Force to shame.

The ties that bind Spencer and Sage are further strengthened by pain of the shared loss of parents in their pasts. Sage having lost her parents to to an accident; when she was a child. Spencer having been given up to Foster Care when he was young. This dash of darkness in an otherwise light romance, helps to give this story an emotional depth that it would sorely be in need of otherwise.

The only gray clouds to be found in this sensuous and sunny sojourn of love don't come into play until that pesky last 25% (kindle approximation) of the story.
This is where, as things get down to the wire and feelings are being declared, Sage finds every reason she can (the more asinine...the better) to run.
Leaving readers and those who love her in the book, in serious doubt of her sanity.

Luckily, grand and heart stopping gestures on the part of her long suffering suitor are what this romance is made of.
So...
There is some gesturing, declarations are made and readers get their happily, whilst having to pick their hearts up off of the floor.
Proving once again that love can and will prove a strong and lasting conqueror of fear.

*I received a copy of the above cited work for review from Pocket Books. All opinions found herein are my own, and are in no way influenced by the publisher.*



About Melody Anne