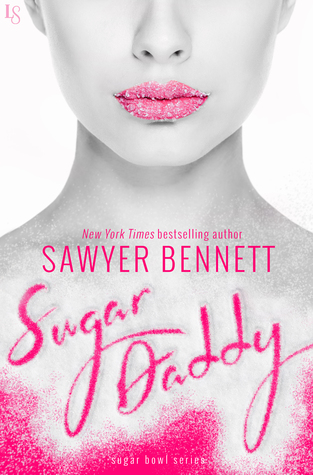 Title: Sugar Daddy
Author: Sawyer Bennett
Format: eARC
Length: NA
Date Of Publication: May 24th, 2016
Publisher: Loveswept
Rating: 5 Stars
Seduction has never been so sweet! The New York Times bestselling author of the Cold Fury series—Alex, Garrett, Zack, and Ryker—returns with the first novel in a hot new trilogy.

"Sawyer Bennett never fails to deliver heroes I fall hard for and heroines I adore," raves Violet Duke. Now the bestselling author of the Cold Fury series proves that vengeance is sweet—but seduction is to die for.

Sela Halstead lost her innocence in a way that no sixteen-year-old should ever have to endure. She's spent years trying to forget that night even while wondering about the identities of the monsters who brutalized her—until a telltale tattoo flashes across Sela's TV screen. The incriminating ink belongs to Jonathon Townsend, the millionaire founder of The Sugar Bowl, a website that matches rich older men with impressionable young women. Obsessed with revenge, Sela infiltrates Townsend's world, only to come face-to-face with a tantalizing complication: Beckett North, his charismatic business partner.

The tech mastermind behind The Sugar Bowl, Beck always gets what he wants, in business and in bed. And yet, for a man who's done every dirty thing imaginable, there's something about the naïve, fresh-faced Sela that sparks his hottest fantasies. Because with her, it's not just about sex. Beck opens up to her in ways he never has with other girls. So why does he get the feeling that she's hiding something? In a world of pleasure and power, the shocking truth could turn them against each other—or bind them forever.

Note: Sugar Daddy ends on a cliffhanger. Sela and Beck's story continues in Sugar Rush and Sugar Free! -Goodreads
My Thoughts
This story is one that lays everything on the line plot wise very early on in the story.
The benefit?
Because readers are in effect introduced to protagonist Sela Halstead through the horrific events which tie her to the object of her ire and propel the plot line of the story forward at breakneck speed.
Readers are free to focus on how her plans do or don't unfold as the tale progresses.
Though this first installment of the Sugar Bowl series is in essence, a stage setter for dramas to follow in later books; authoress, Sawyer Bennett, fills the pages of this read with jaw-dropping drama, scintillating sensuality, and charismatic characters.
Sela is a very powerful leading lady. While it is true that she was the victim of a very traumatic gang rape
at the point in her life when her awareness of herself as a sexual being was just beginning to bloom. She is also a person unafraid to strive for wholeness in the personal aspect of her world. This is not to say that she is not still very evidently damaged in regards to her approach to men, relationships, and sex. In fact, she herself is the first to admit that she "goes through the motions" in those areas because she has no idea what normal intimacy on any level feels like.
Revenge may be the push that gets the story line rolling; but it is the intensity of Sela and Beck's romantic chemistry, that provides its staying power.
Experiencing what happens to Sela as a result of her overpowering response to Beck, and how said response works to destroy a great many of the negative images created by her past.
Priceless!
For his part,leading man, Beckett North, is clueless about the truth behind Sela's presence in his life. A plot twist that works to:
A. Keep the story's focus on Sela.
B. Give Sela and the reader a chance to experience what a normal relationship feels like.
C. Provide a very deep and emotional tie between reader and relationships. Thereby, uping the ante
when the truth of matters does come to light.
True to the genre, the romantic and sexual components comprise a great percentage of this read.
So much so, in fact, that the author makes a point to slip little reminders of Sela's initial purpose through out the goings on. Just so that the reader does not get so caught up in the bright and shiny romance, that they lose sight of the down and dirty motives.
As far as baddies go...
Johnathan Townsend goes a long way to establish himself as the ultimate sleaze.
Everything about him is lowbrow. From his careless and masochistic treatment of women, to his down right lackadaisical attitude towards his money and business. It is very clear that he is very deserving of his title as a slime bag of the first water.
Questions, answers, mysteries, and more.
Because, as the synopsis states, "this book ends on a cliffhanger." The need for the answers to certain very important plot points come to bear. They are not however addressed!
Leaving readers panting to know what happens with Sela, Beck, and Johnathan!
If you like you lotta heat with your sweet...
Drama with your dreamsicles....
And...
Nefariousness in your num nums.
Don't miss the sticky, sensual, secretive, and sensational sordidness that is
Sugar Daddy.
Buy Me Here