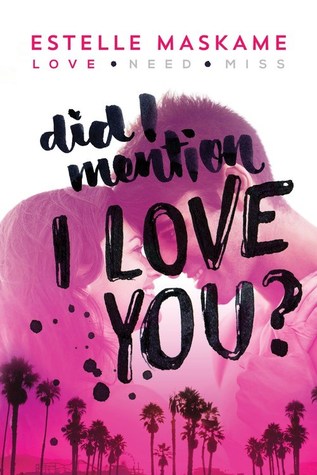 Title: Did I Mention I Love You
Series: (DIMILY #1)
Author: Estelle Maskame
Format: eARC
Length: 393 pages
Publisher: Sourcebooks
Rating: 3 Stars
When sixteen-year-old Eden Munro agrees to spend the summer with her estranged father in the beachfront city of Santa Monica, California, she has no idea what she's letting herself in for. Eden's parents are divorced and have gone their separate ways, and now her father has a brand new family. For Eden, this means she's about to meet three new step-brothers. The eldest of the three is Tyler Bruce, a troubled teenager with a short temper and a huge ego. Complete polar opposites, Eden quickly finds herself thrust into a world full of new experiences as Tyler's group of friends take her under their wing. But the one thing she just can't understand is Tyler, and the more she presses to figure out the truth about him, the more she finds herself falling for the one person she shouldn't – her step-brother.

Throw in Tyler's clingy girlfriend and a guy who has his eyes set on Eden, and there's secrets, lies and a whole lot of drama. But how can Eden keep her feelings under control? And can she ever work out the truth about Tyler?

Did I Mention I Love You is the first book in the phenomenal DIMILY trilogy, following the lives of Eden Munro and Tyler Bruce as they try to find their way in an increasingly confusing world. -Goodreads
My Thoughts
This is a read very capable of rendering a reader of two minds. Because while Did I Mention I Love You is certainly readable to an almost compulsive extent. The darkness that pervades this read may be very off putting to some readers.

Especially in the case of leading man Tyler Bruce. Tyler is a bad boy with a capital B, and it is not long into the first 20% of the book that leading lady, Eden Munro, finds out just how bad. The problem with this being that for the majority of the read, this is the only facet of Tyler that readers and Eden are allowed to see.
Making things worse is the fact that Eden seems to be the only person truly concerned enough about Tyler's purposeful slide down debauchery mountain to throw the boy a rope.
All of his friends are content to write off his drinking, drug use, promiscuity, and law confrontations as, "Tyler being Tyler."
Meanwhile, the parental units in this situation prove as useless as ever. Alternating between exasperation and defeat.
Adding to Tyler's seeming laundry list of problems is an A-List popularity and a social climbing shrew of a girlfriend who proves time and time again, that she will sink to any depth to hold on to him and her position as "queen bee".
So much is going on courtesy of Tyler's dysfunction, that the codependent romance that develops between Eden and Tyler is almost enough to send one into dramatic overload. But love is in the title after all.
So someone's got to fall in love with somebody right?

Topping things off in this edition of " How Many Problems Can We Possibly Give One Rich Teenaged Boy?" The absolutely earth shattering reveal of the "dark truth" of Tyler's past. That terrible secret meant to explain and justify his behavior.
Unfortunately, the author's "throw everything in but the kitchen sink" approach to character building, takes away a great deal of the "wow factor" that said reveal is worthy of.

From here, there is a fast and tidy one way slide into "let's rush to the end." Given all of the care and craft that characterizes some 85% of this read. The rush to tie all the lose ends of the last 15% is quite disheartening.

Despite an over reliance on drama in the plot, and the short changing of side characters' stories, in favor of Tyler's. One cannot overlook the fact that the story is extremely well written. The ending though rushed, provides a wonderful segue into the promise of a more hopeful book 2.

Reviewer's Notes
This title is the first in a trilogy set on a continuous plot line. As such, readers must read all books in the order they are written.
*I received a copy of this literary work from Netgalley and Sourcebooks in exchange for the honest review provided.*
About Estelle
Find Her: Web / Twitter / Goodreads / Facebook