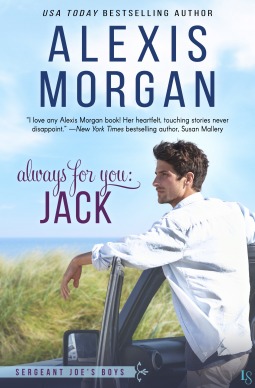 Title: Always For You: Jack
Series: (Joe's Boys #1
)
Author: Alexis Morgan
Format: eARC
Length: 296 pages
Publisher: Loveswept
Date of Publication: April 19th, 2016
Rating: 5 Stars
Praised by Susan Mallery as a bestselling author whose "heartfelt, touching stories never disappoint," Alexis Morgan introduces Sergeant Joe's Boys: three brothers living up to a legacy of courageous military service—and pursuing the women who have captured their hearts.

No one understands family loyalty like Jack McShane. He'd do anything to honor his foster father's last wishes, even if it means putting his own plans on hold to manage Joe's construction business. An ex–Special Forces operative, Jack thrives on the thrill of globe-hopping rescues. But now he's needed closer to home. His foster mother has her hands full with a troubled teen, and when Jack meets the hired tutor, he discovers a woman who stirs his protective instincts—and his deepest desires.

Caitlyn Curtis knows that good looks can hide a hot temper. After an abusive marriage crushed her dreams of a happy ending, she swore off men—until one intoxicating dance in Jack's strong arms breaks down every emotional barrier. Tough but tender, he leaves Caitlyn yearning for more of his gentle seduction. Despite the violence he's seen, Jack is a good man. And even though passion can be dangerous, the promise of Jack's kiss tempts her to believe that love is a risk worth taking.

Advance praise for Always for You: Jack

"Engaging and charming, Always for You: Jack is a story of fulfillment, forgiveness, and passionate romance. The combined strength Jack and Caitlyn wield when facing anyone who threatens to break their bonds is incredible. I can't wait for the rest of the series."—Vonnie Davis, author of the Highlander's Beloved and Black Eagle Ops series

Includes a special message from the editor, as well as an excerpt from another Loveswept title.
My Thoughts
Always For You: Jack is far more drama than romance. Leading man Jack McShane, is that perfect blend of tough and tender, sure to inspire both desire and curiosity in the reader. The lose of both the foster father, who raised him, and his place in the Special Forces unit that he loved, leaves Jack more in need of the nurturing effects of home, family, and his foster mother's delicious dinners than ever before.
Faced with the choice between striking out on his own, and fulfilling his foster father's last wish that he take his place as the head of the family construction company. Jack is a man in flux.
Until Ricky.
A boy alone, abused, hunted, and in need of help. Help, that only Jack, and those closest to him are able to provide.
Over 50% of this book is spent introducing readers to Ricky, and the host of issues plaguing him. It is clear from the start that Ricky, and his situation serve as a very clear mirror for Jack. A mirror that Jack is determined to never see broken.
When Jack's efforts to help Ricky lead to their meeting the beautiful but reserved Caitlyn Curtis; hired to tutor Ricky in all the subjects that he needs ensure that he is on track for the coming school year.
The previously child-centric plot takes on a decidedly more adult romanticism.
Sweet...but definitely adult.
The care and understanding that Jack shows to both Ricky and Caitlyn, lets you know that all of the goodness that has been put into Jack by his foster parents, lies just under the surface of his gruff exterior. Waiting for just the right people!
This is the perfect grown up romance. Jack and Caitlyn are very careful to consider Ricky in every decision that they make involving the progression of their relationship.
There are some hot and heavy moments between the soldier and his lady. But the passion is always tempered by an almost reverent amount of care for tender hearts and wounded spirits.
The ultimate "feel good" read. The characters, homey setting, and personal tone in which the story is communicated to the reader, goes a long way in spinning a uncomplicated but powerful yarn, meant to remind one of the true meaning of family.
Reviewer's Note: I received a copy of the above reference literary work in exchange for the honest review provided.
Said review was not influenced in any way by Loveswept, or those acting on their behalf.
About Alexis
Find Her: Goodreads / Facebook / Web / Twitter