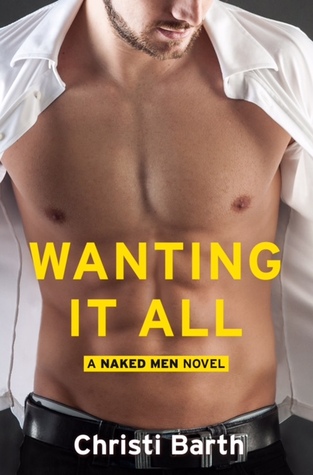 Series: Naked Men #2
Author: Christi Barth
Review Format: eARC
Length: 224 pages
Publisher: Loveswept
Rating: 2.5 Stars
In the follow-up to Risking It All, hailed by Lauren Layne as "the perfect escapist read," the heartthrobs of the Naked Men blog and podcast get a little too real about friendship, love, and sex. For one wealthy bachelor, the trouble starts when all three collide. . . .

After narrowly surviving a bus crash in high school with his best friends, science geek Knox Davis resolved to become so successful that he could have anything and everything he wants. Now he's über-wealthy, a huge business success, and a notorious ladies' man. Knox refuses to limit himself to one woman, but when his latest conquest—a blond beauty from the Alaskan bush—challenges his superficial ways, Knox begins to see the world through her eyes, and finds he likes what he sees.

A nurturer at heart, Madison Abbott wants to put down roots. She left Alaska to meet Mr. Right—and to track down Logan, the half-brother she's never met. Instead, she finds Knox. Although the sexy-as-sin bachelor may not seem like marriage material, Madison's starting to think that Knox is The One. But Knox refuses to settle down, especially once he learns that Madison is his best friend's little sister. Now it's up to her to convince Knox that she's everything he really wants.
-Goodreads
My Thoughts
Wanting It All
is the second novel in Christi Barth's Naked Men series. It is also, sadly enough, another trip around a plot tree that didn't seem to grow so well the first time she planted it.
And now...a little background.
Knox Davis never had much growing up. But when he got to high school at the prestigious Roosevelt Prep, Knox finally found the one thing (bedsides money) that he had always longed for.
Friends.
And after he and his friends managed to survive a bus crash and days spent braving the elements in the Swiss Alps.
The five boys knew that they were much more than friends. They were brothers. They also had their survival, friendship, and some really great PR to thank for having been dubbed the Americani Calcio Sopravvissuti by the press.
Now, all grown up, a graduate of MIT, a successful businessman, richer than Crocus, and with his friends still by his side. Knox is a man who seems to have it all. But a chance run-in with a very special lady...just might make Knox want to redefine what "having it all" really means.
Knox, as a character, is defined by his wealth. Though it's a given that this construct is meant to be a point from which he learns and grows. For the sake of this story. It also serves to make him very one dimensional and boring.
His leading lady, one Madison Abott, is about as close to a modern-day hippie is one can get. She's straight out of the Alaskan Bush, way smarter than the average bear, and licensed to carry...a gun. And though her interest in Knox is more than apparent. Her interest in all of his trappings rates about the same as that of a trout's fascination with a Starbuck's.
Not to go untouched by the annoying agenda fairy. Miss Abott has been gifted with one all her own. She is set to find a husband...(and her long lost half brother) but we will get to that later. Oh yeah...a husband for Miss Abott, and in very short order. The clock is ticking...chop...chop.
Between Madison's obsession with her need for nuptials and Knox's fixation on his money. These two are the perfect candidates for a mental health intervention on TLC!
But I digress.
As if these two don't have enough individual idiosyncrasies to worry about. They also are blessed with the "let's argue about everything and then have great sex" one. The promise of great sex may be an incentive to endure almost anything. But there are limits.
Before you go screaming for the hills. There are some very notable moments of plot sanity to be had. The first, and most important of these being the friendships that come from Madison's introduction into Knox's circle. The ease of their interactions and the natural flow of banter, provides a realism that almost makes up for all of the prior madness. Almost.
Then there is the surprise plot twist that you won't see coming if you don't look too hard. Can't say much about that though. Surprise!
Despite more than a few character ticks, and plot hiccups.
Wanting It All
is a cute, if not so light romance. Where the men do manage to learn a thing or two, the sex is great, and the happily...is well...happy!
Reviewer's Note: This title is the second of a companion series which may be read in any order.
I received a review copy of this title in exchange for the honest review provided.
About Christi
Christi Barth earned a Masters degree in vocal performance and embarked upon a career on the stage.

A love of romance then drew her to wedding planning. Ultimately she succumbed to her lifelong love of books and now writes contemporary romance.

Christi lives in Maryland with her husband.
Buy The Book Here