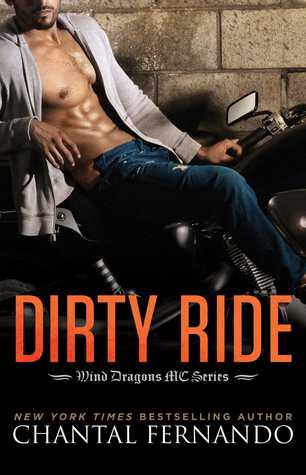 Title: Dirty Ride
Series: (Wind Dragon MC 3.5)
Review Format: eARC
Length: 112 pages
Publisher: Pocket Books
Rating: 4.5 Stars
From USA TODAY bestselling author Chantal Fernando comes a brand new Wind Dragons Motorcycle Club e-novella, full of sexy bad-boy bikers, strong heroines, and steamy romance!

Even by Wind Dragon Motorcycle Club standards, Irish was always a bit of a dark horse. Not one to confide his secrets, such as where he got that mysterious scar across his neck, he's quick with his fists and even quicker to jump to the defense of his MC. But is he nimble enough to handle the woman he never saw coming? Or will she leave him with a matching scar across his heart?

Featuring scorching hot chemistry and plenty of sass, Dirty Ride is sure to rev your engine and get you immediately hooked! Goodreads
My Thoughts
There is a great deal about "Irish" that Valentina doesn't know. Like where he got the deep scar on his neck. Or, just how many secrets hide in his darkly intense gaze. But the one thing that she does know all too well, is that "Irish" is the only man who has ever made her feel safe.
The kind of safe that she sorely needs with just six months away from the abusive ex, who she is sure will do anything to get her back.
Chantal Fernando has proven time after time that she is ohh soo good at penning bad boys.
Dirty Ride
offering no exception.
With Irish as the strong but tender alpha lead, and Valentina as his wanton but wary leading lady. There is not a dull moment to be had. Whether its a first date that ends with an Epi-shot and a trip to the hospital. Or sex scenes so hot, fire extinguishers should be mandatory. Readers won't want to miss one moment of this lust-filled lesson in love that only "Irish"/Ardan can teach.
Though this novella is a mere 112 pages, its raw realism and unflinching look at the physical and psychological effects of domestic abuse is fully realized and extremely well portrayed. In fact, the same can be said for all aspects of this lates
t Wind Dragons
read.
If anything, this reviewer's only complaint is that the book ends far too soon.
Reviewer's Notes
This novella is number 3.5 in a loosely related consecutive series. Though it is strongly suggested that the novels in the series be enjoyed in their intended order. The novels can be read at any point.
**The above review of this literary work has not been influenced by Gallery Books, or anyone acting on their behalf.
Review copies were received from the publisher via Netgalley.
About Chantal