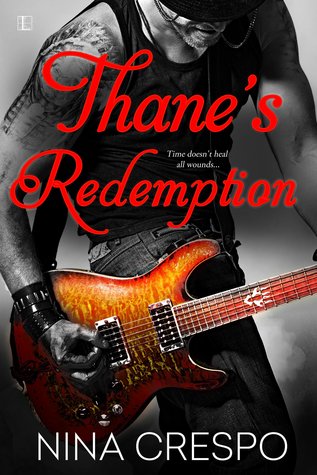 Title: Thane's Redemption
(The Song #1)
Author: Nina Crespo
Review Format: Kindle
Length: 82 pages
Publisher: Lyrical Press
Rating: 3.5 Stars
The one night she'll want to remember, she'll be forced to forget.

It's been almost a year since Celine's fiancé's death and she's still struggling to move on. But when she meets Thane, the super hot lead singer of Thane's Redemption, she finds her desire reawakening, and her heart opening. Soon one kiss leads them straight into a night of heated passion…

Thane's unexpected connection with Celine only leaves him wanting more of her—but his life makes it impossible. For Thane's Redemption is just a cover for a deeper secret: A former Army Ranger presumed dead, Thane is really a time-traveling, covert operative charged with saving the world from disaster. Each jump through time forces those around him to forget he ever existed—and Celine would be no exception. But can time work in their favor to give them a second chance at love? Or will a choice Thane makes in the future put Celine in mortal danger?
-Goodreads
My Thoughts
To say that Staff Sergeant Nathaniel James Eckhart hasn't been quite himself since his death, would be an understatement...to put things mildly.
Now, known simply as Thane. He and the members of his squadron, with him when their helicopter went down, have become an elite team of another sort. Given the power of immortality, as well as the ability to navigate within the time stream. Thane and his men have been charged with stopping those who would with whatever means, or for whatever reason destroy the world.
The problem.
Neither Thane, nor his men are ever remembered once they time jump.
Forcing them to live lives filled with introductions, first meetings, and one night stands.
The only relief from their solitary existence...
Their music.
Playing as
Thane's Redemption
. Thane and his band mates are able to use their music to hold on to the human connection that they all crave, find the peace they require, and just maybe (in Thane's case,) find the love that will make him whole.
Leading lady, Celine, is still grieving the tragic loss of her fiancé Dominic. Though she admits to being more than ready to try her luck at love. The pitying stares and patronizing platitudes spouted by her would be suitors; when they learn of her past. Rips the already ragged scab covering her tender heart anew at each encounter. Leaving Celine a mess of unresolved emotions, and just that much more reticent about trusting anyone.
Until the night when fate and the supernatural collide, putting Thane and Celine on an immutable path toward each other and their joined destinies.
Reading
Thane's Redemption
is the equivalent of getting a nibble of your boyfriend's Filet Mignon. After having doomed yourself to the dreaded baked chicken plate; in the name of girlish figure preservation. Knowing all the while, that Pavlov's dogs have nothing on the ravenous bitch you harbour on your insides, and the absolutely obscene things you would be willing to do; to be alone with said morsel of succulent cow.
That is to say that the scant 82 pages comprising this read is in no way up to the challenge of housing the story found beneath its spectacular cover. So, what readers get is a series of brilliantly rendered scenes, working in concert to try to convey the breath and depth of a full length novel in something akin to a Twitter post.
An occurrence that when weighed against the attention to detail, plot craft, and depth of emotion expressed here, is enough to make one want to howl in frustration.
Though in all fairness, concessions can be made to flagship book status, authoress format choice, and publisher input. The fact still remains that Thane's story is one that will always leave it's readers desperate for more.
About Nina