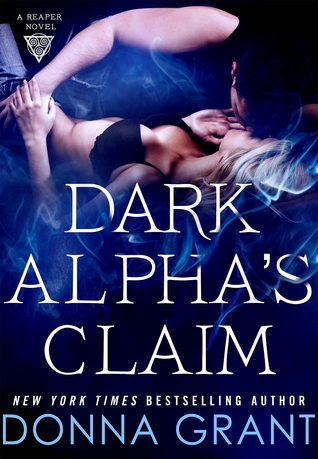 Title: Dark Alpha's Claim
(Reapers #1)
Author: Donna Grant
Format: eARC
Length: 166 pages
Publisher: St Martin's Press
Rating: 4 Stars

Dark Alpha's Claim is the first in an exclusive new series from New York Times bestselling author Donna Grant!

There is no escaping a Reaper. I am an elite assassin, part of a brotherhood that only answers to Death. And when Death says your time is up, I am coming for you...

My whole existence is based on taking what Death wants. Born to eliminate Fae guilty of unforgivable crimes, my reckless, wild nature makes me the perfect assassin to carry out Death's bidding. I've seen more sinister and violent dealings than anyone could ever imagine. But it was the sight of her face that stopped me cold. I've never wanted a woman-never mind a human-so badly; never felt my heart, hardened by death, burn brighter and hotter until it burst into flames. She is everything I desire. The kind of woman that compels you to stake your claim on her, to let the world know that she's yours. A Reaper saving her life will only attract danger, but I vow to protect her at all costs from the Fae that hunt her, and keep safe the woman who has claimed me, body and soul. -Goodreads

My Thoughts
The Reapers are a hard group to place within the strata of the Dark universe. Said difficulty of placement being due mostly to their dwelling on the periphery of things, when it comes to interaction. They are the Black Ops of the supe world. As such they are often spoken of by others, definitely feared, but never invited to dinner.

Enter Jordyn.


This lady puts the lead in leading lady in a big way. For better or worse, her need to know who and what she is, puts her on a path filled with obstacles that she proves ready to overcome at every turn.
She accepts the knowledge of the existence of supes with just the right amount of fear to balance her curiosity.
And...
She is never one to back away from a fight.

Leading man, Baylon, seems out of his depth when it comes to his feelings for Jordyn, and what to do about them.
Although, in his defense, he is entitled to be a just a tad cautious given the war with the Dark Fae, and that falling in love marks him for death by his boss.

Who just happens to be...

Death!

This is a very quick and fun read. Given the fact that the series is new, there is still a lot of room for the world building that has to begin anew. Because of the setting apart of the Reapers from previously introduced character groups.

The sex, while sensual, is much less of a central focus this time. Being very skillfully supplanted by physicality of the battling sort.
But given the almost innate chemistry that the romantic leads share in this case. The magnetic pull that they share is a very corporeal thing, nonetheless.

This is a great start to a very promising series. Can't wait for book two.

I was provided with a copy of the literary work referenced above. All opinions expressed there in are mine, and have not been influenced in any way by St. Martin's Press or those acting on their behalf.


About Donna