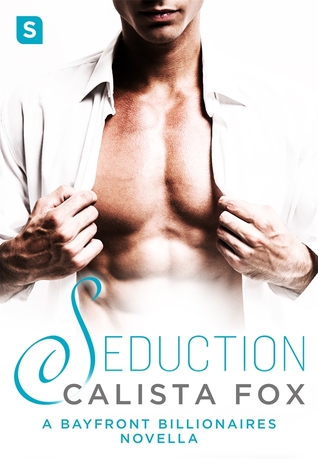 Title: Seduction
Series: Bayfront Billionaires
Author: Calista Fox
Format: eBook
Publisher: Swerve
Add To Goodreads
Rating: 5 Stars
100 Shades of Sin...

Delicious and hot, the seductive Bayfront Billionaires need one thing, and one thing only: the woman made for them, the one woman on earth who can complete their trio of passion and desire.

Lily Hart has taken a temporary position as a live-in butler for billionaire musicians Jackson Sterling and Lexington Alexander. She expected to be on call day and night. But what she did not plan for was that these two billionaires would be as handsome as sin and hell-bent on having her in their bed. Entirely skilled at the art of seduction, they make Lily burn for pleasure in ways she never knew she could.

Jax and Lex have been waiting for a muse, and when breathtaking, sensuous Lily arrives on their doorstep, they know she's the woman to join them in the seductive web the three of them weave. But passion between three can end in flames, and Lily, Jax, and Lex must decide—is opening their hearts worth the risk?



Lily dressed in her uniform every morning, hair in a tight bun, and then served Jax and Lex brunch at their location of choice, either on one of the many patios or on the terrace off the music room. She went about her duties while they worked on the sheet music. Then she changed, let her hair down, and slipped into an evening gown for their late-night practice sessions.
She did exactly as they requested, attending to them when needed, but also sitting quietly, getting lost in the compositions and their creative process.
Occasionally the two men went out for dinner and drinks with friends, but she could see with each passing day that they were determined to improve upon what they'd already built. And Lily admired and respected their dedication and commitment to perfecting each arrangement.
It wasn't just that she was lusting after both men—which was incredibly difficult to contain when she was still trying to be professional—she also genuinely adored Lex and Jax. Liked them more and more as she got to know them better. She was privy to their confidential discussions and she found their international travels enthralling, their views worldly and intelligent, and their philanthropic efforts generous.
Which only served to intensify her desire for them to the boiling point.
Though both gave her lingering glances and neither abstained from suggestive comments, even in front of each other, neither Lex nor Jax had made a physical move on her.
Until one afternoon, toward the end of her first month at the estate.
Lily was hanging Lex's dry cleaning in his dressing room and returning his polished shoes to the shelves above one of the many racks. Or, at least, trying to. She really couldn't reach that far even on tiptoe, but all the other spaces were spoken for.
"Here, let me," he said from behind her, catching her by surprise. And making her pulse jump.
He took the shoes from her raised hand and set them where they belonged. In doing so, his body brushed hers, his chest pressing lightly to her back, his pelvis to her butt. Setting every nerve ending ablaze.
"Have Greta get you a stepladder," Lex told her in his casual, sexy tone.
"Good idea."
He lowered his arm, resting his hand at the dip of her waist. He leaned close and drew in a long breath. "You smell so damn good."
Liquid fire rushed through her veins.
Lily turned to face him. "You're finally touching me."
"Yes." His gorgeous blue eyes shimmered warmly. "And you don't mind." It wasn't even a question.
"No." Otherwise she would have conveniently sidestepped him. And being a gentleman, he would have let her.
Jax, however . . . She sensed that with his more aggressive nature, he'd cajole her into owning up to what she'd said to him on the terrace the night of the party—about her limited engagement at the mansion and the invitation that presented.
Lex was more of the coaxing kind. And she found that equally stimulating. So she gave him a soft smile.
His gaze dropped to her mouth. His expression morphed into a more contemplative one.
"You had valid points that night we discussed you being our muse and how we feel about you. Does it turn you on that we both want you, Lily?"
She swallowed hard. She'd practically been on pins and needles since she'd arrived at the estate. Following the evening when they'd expressed their interest in her . . . she'd all but waited with bated breath for one—or both—of them to corner her like this.
Yes, she'd needed to process. They'd obviously grasped that. But Christ. The fantasies had run rampant night after night. And being in a suite between Lex's and Jax's—though additional suites separated them on either side of hers—had her brimming with excitement. She was in such close proximity to them on a floor that offered immense privacy. It'd taken all the willpower she possessed not to leave her bed and climb into one of theirs.
But now here was Lex, pushing the envelope.
So Lily brazenly confessed, "It does turn me on. Even more than when I met you individually. Which is certainly saying something."
"Good." His lips whisked over hers in a feathery kiss that instantly tightened her nipples and ignited her insides. He murmured, "Because taking it slow with you has been much more difficult than we'd anticipated."
"I don't just jump into things," she told him.
"We figured as much."
Lily's breathing was shallow, her heart racing.
Lex seemed to carefully catalog every reaction she had to him—every reaction he incited.
His grin was a bit cocky now that she was all but swooning under his electric gaze, feeling a little light-headed at the nearness of him. At his mouth, still so close to hers that all she had to do was lean in for another kiss and fall easily under his spell of seduction.
And he knew that was exactly what she was thinking.
He nipped playfully at the corner of her mouth, making her toes curl.
"You're teasing me," she whispered, her pussy throbbing at the way he toyed with her and the blatant need burning in his eyes. To claim her mouth? To claim her?
Lily didn't actually think he'd take her right here and now, in his dressing room in the middle of the day.
But what an amazing fantasy to weave! Lex being so captivated by her that he couldn't stand another second of the flirtation without giving in.
She'd suspected Jax would be the one to get caught up in the moment and have his way with her if she gave him the right signal. Lex, however, seemed to enjoy the little cat-and-mouse thrill of the chase. Either approach would work with her when it came to these two men. The thought of how varied each would be in tempting her, drawing her in, excited her even more.
She had a feeling everything about their foreplay and eventual conquering of her—if that was what they were both intent on—would provide the sort of double whammy that would leave her limp and boneless.
And thoroughly satisfied.
Prompting Lily to say, "I like the proposition you made. What you and Jax want from me." She pulled in a long stream of air, looking for a little boost of courage, and then she daringly told Lex, "I'm more than intrigued by the way you two look at me. Not just when you're taking in the sight of me in a different dress or watching me bend over to grab something from the butler's pantry." She crooked a brow at him, wondering if he'd deny it.
Of course, he didn't. Modern-day scoundrel that he was, Lex's sexy grin returned.
She should be forewarned by all the zings ricocheting through her body. Yet she wasn't able to focus on any red flags this time. Especially the way Lex was currently devouring her with his hungry gaze.
Copyright © 2017 by Calista Fox and reprinted by permission of Swerve.
My Thoughts
Jackson Sterling and Lexington Alexander are the world class classical musical duo whose ethereal symphonic creations captivate hearts and minds the world over.But the two also share a tragic but sensual secret, that looms as a heartbreaking specter in both their lives and their creations.
Lily Hart is the best in her business and her business just happens to be service. As a female butler to the best and brightest, she knows that she has what it takes to make her two newest clients feel right at home.
What she has no way of knowing however, is just how many "bonuses" her new position has to offer...
And what no one involved has any idea of is the life changing outcome that their shared passions will have on their art, their shared hearts, and their joined destinies.
Calista Fox's newest offering in the Bayfront Billionaires series. Seduction offers readers a full and very scintillating tale of creativity, seduction, and love in a very readable novella format.
Though this book is flawless on every level. The most fascinating aspect of the story told here is the fact that Lily, although employed as the "help" in the lives and household of Jax and Lex; is more than capable of holding her own among the elite of her world. She is so at home in fact, that it often times becomes hard to see her in her role as servant. Over time, the reader becomes more accustomed to seeing her two billionaire lovers serve and adore their enchanting butler turned muse.
Coupled with the fascinating evolution of the upstairs/downstairs plot line. The time and detail given to the development of the shared eroticism between out three main characters is phenomenal. Unlike most menage reads, Seduction features a relatively slow and study build in interaction. In so doing, making room within said relationship for the readers' investment. Creating an intensely readable and surprisingly relatable fantasy experience.
About Calista
Calista is a former PR professional, now writing fast-paced, steamy books to set your pulse racing!
She has won many Reviewer's and Reader's Choice Awards, as well as Best Book Awards. Calista has crossed the country many times over by corporate jet and travels internationally, always with her laptop in tow to capture intriguing story elements and exotic locales! She is also a member of Romance Writers of America and a Past President/Advisor of the Phoenix chapter.
Find Calista and Seduction