It's Friday...What Are Your
I often Tweet my Friday Reads,
but I have decided to change things up a bit.
There will also be a post on my blog as well.
I'm Spending my Memorial Day weekend with
none other than...
Title: Buns
(The Hudson Valley Series #3)
Author: Alice Clayton
Length: 320 page
Publisher: Gallery Books
Clara Morgan is living the dream, if you can call rebranding hotels that are desperate for a new life and running any kind of marathon a dream. Which she does. But the career she loves and the endurance races that keep her adrenaline pumping have kept her too busy to put down any roots. Growing up in foster care, she's never been able to establish traditions of her own, which may be why she's fascinated by the rituals that generations-old family resorts are known for. She's especially interested in the Bryant Mountain House, and not just for their secret recipe for the yummy, gooey, can't-get-enough-of Hot Cross Buns….

Archie Bryant, the man with the Buns, is fifth generation and one-day-owner of the charming yet run-down Bryant Mountain House in Bailey Falls, New York. He's determined to save his family's legacy from the wrecking ball the old-fashioned way—by gritting his teeth and doing what needs to be done. There's no way Archie will be influenced by the new hotel branding expert his father brought in to turn one hundred and fifty years of tradition on its head just to attract a faster, younger, slicker crowd. But when some of Clara's ideas start bringing in new, paying customers, Archie can't deny that she may have just given him a shot at keeping his resort open.

It's sticky, it's messy, it's sweet, it's Buns.
Title: Corliss
(The Girls of Spindrift #1)
Author: V.C. Andrews
Length: 120 pages
Publisher: Pocket Star Ebooks
Expected Date of Publication: June 12th, 2017
From the New York Times bestselling author of the Flowers in the Attic and My Sweet Audrina series, now Lifetime movies, comes a haunting new novella featuring a mysterious, highly intelligent teenaged girl as she struggles to survive high school and understand her place in this complex, sometimes dangerous world.

Corliss is not like other girls at her Los Angeles high school. Incredibly intelligent, shy, and a loner, she has difficultly in fitting in. What's worse, a clique of girls is out to get her after she refuses to take drugs with them, leading to a violent confrontation. When Corliss is unknowingly drugged, her entire life is turned upside down and no one—not even the handsome valedictorian who had agreed to go out with her—looks at her the same way. Will she be able to return to her high school or is there another path she can take? And where will it take her?
Buy The Book Here!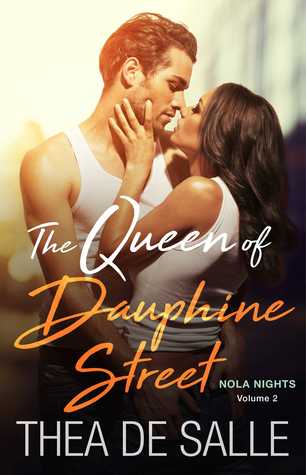 Title: The Queen of Dauphine Street
Publisher: Pocket Star ebooks
When one of the world's wildest socialites is paired with a handsome Texan, neither has any idea that their lives are about to change forever in this sexy, sultry romance in the NOLA Night series from New York Times bestselling author Thea de Salle.

Madeline Roussoux has it all: money, a dozen houses, a private jet, a cruise ship, even a tiger. Everyone knows her name. Her every move is watched, absorbed, adored, and abhorred by the public. She's a dazzling spectacle on the society scene—a beautiful, flamboyant poster child for American privilege and Hollywood celebrity.

And she's broken.

All the wealth in the world can't make up for Maddy's losses. Her father's suicide and her mother's ensuing breakdown left her orphaned as a teenager. She survived, but barely. From stints in rehab to a string of failed marriages, her dazzling smile hides deep scars. Finally, losing Sol DuMont, the one person she ever truly loved, has her wondering what is the point of being surrounded by people when you're perpetually alone?

Enter Darren Sanders. He's a beautiful Texas boy with a big heart and a bigger smile; the type of man women go crazy for. Literally. When Darren's ex stalks him and then makes an attempt on his life, circumstances find him off to New Orleans with none other than Maddy Roussoux. He thought he knew everything there was to know about her, but there's more to the woman whose image graces the covers of magazines worldwide, and Darren finds himself drawn into a world of excess he never imagined possible.
Buy The Book Here!