Title: A Highlander's Christmas Kiss
Series: Highland Heirs #1
Series: The MacGregors: Highland Heirs
Author: Paula Quinn
Format: Kindle ARC
Publication Date: September 27,2016
Publisher: Forever
Rating: 5 Stars
A STRANGER'S SMILE
Christmas may be coming to Linavar, but Temperance Menzie is far from joyful. Grief-stricken over the death of her father at the hands of the Black Riders, she almost didn't see the wounded stranger in the woods. And now she's determined to give this braw, brooding Highlander the help she couldn't give her father. But there's a secret lurking in the depths of his blue-gray eyes. And Temperance won't rest until she uncovers it . . .
A LOVER'S KISS
A killer for hire. It's the last thing Cailean Grant ever thought he'd become, but being part of the Black Riders was his only way to survive. Now, his guilt grows day by day, along with his desire for the beautiful, brave lass nursing him back to health. As Christmas, the season of miracles, draws near and the truth of his identity threatens to come out, Cailean must risk the only thing he has left to lose-his heart.
Enjoy An Excerpt From:
A Highlander's Christmas Kiss



The next morning Cailean stepped into the grand dining hall, built by a leader who had done well for his people, and decorated by a lass who loved life and the celebration of it. He smiled at the paintings hanging on the walls, obviously done by a child's hand. Temperance's. He liked it here. He could feel the warmth. He could almost envision Seth Menzie sitting at the head of one of the large rectangular tables.

But Seth Menzie hadn't sent him here, and Cailean needed to tell his daughter the truth.

He closed his eyes and heard the ghostly echoes of laughter filling the large room, cups clacking in hearty toasts to peace and prosperity. Would it ever be the same here again? He knew now that Seth Menzie had been innocent. Temperance's father wouldn't have had time to veer off and fire an arrow at men returning to Lyon's Ridge. If he had, Temperance would have known about it. She would have told him. She didn't have a reason not to tell him. She'd already voiced her hatred for the Black Riders. She thought he hated them too. No. The wrong man had died.

How could he tell her? How could he do anything more than what he'd done last night? Unable to enjoy the supper she and Gram had prepared, he'd excused himself, claiming exhaustion, and retired to bed without sharing another word with anyone. She was wrong. Her father hadn't sent him.

It was Christmas Eve, the Night of Candles, when candles were lit and placed in windows to guide the Holy Family to safety. He thought of Camlochlin Castle lighting up the vale, a refuge from the harder world around it. He imagined his kin singing and sipping warm wassail, laughing together by the hearth in the great hall. He missed them while he breathed in the sweet scents of dried pine and mountain laurel mixed with the fragrant aromas of Yule cakes and shortbread baking, along with hens and capercaillies roasting. Mince pies were also being baked and would be offered with cinnamon, cloves, and nutmeg to symbolize the gifts bestowed by the three wise men. At Gram's insistence that the Lord's birth be celebrated despite the recent death of her son, the villagers would arrive tonight with gifts and smiles.

Cailean should leave before the merriment began. But he didn't want to go. There hadn't been merriment in his life for a long time. He hadn't wanted it.

What had changed?

"Ah, there you are."

He turned at the sound of Temperance's voice and smiled at her standing under the doorframe. He spotted the mistletoe ball above her head and was tempted to follow tradition and kiss her. To refuse was bad luck. He didn't think she'd refuse, though.

He didn't do it because Deware was doing whatever was necessary to keep Temperance out of the arms of her father's executioner.

"I was explorin' the house and its many rooms," he told her. "This one is m' favorite."

"Mine too," she said softly, and stepped toward him, leaving the mistletoe and vanquishing his foolish desires. "Though I imagine it must be wonderful to live in a castle."

It was. But he had forgotten. He'd forgotten much, like what it meant to be happy, to feel fortunate that he had a family he loved and would die for. Almost losing Patrick, and finding Temperance, had helped him remember.

He ran his hand through his hair and pushed it away from his face. Why had it taken inflicting his pain on someone else to make him see how devastating it truly was?

"Camlochlin Castle is verra big and m' kin are close, but I dinna live in the castle. M' faither is a builder and he built our house and many others in the vale. He would appreciate yer faither's workmanship."

She smiled at him and moved closer.

He felt his breath stall.

"Mayhap someday I shall see your father's workmanship as you've seen mine."

"Mayhap," he agreed, watching her drift nearer. Why was he giving her any indication that he might take her home? He scowled and took a step back. She was temptation incarnate and if she found out the truth about him, she'd hate him even more for taking liberties with her.

She stopped, seeing his unease, and didn't come any closer. "You're a different kind of man, Cailean Grant," she told him, making him feel guiltier than ever. "Most men wouldn't care about William's request, especially knowing he isn't in love with me."

"He protects ye."

"Aye, I know." She didn't sound happy about it. "Tell me, am I fortunate to have such a selfless friend that he would give up his happiness fer me? Am I selfish because I'd rather see him happy with Marion?"

"Nae," he answered quietly when she took up her steps again. When she reached him, unable to take another step without being in his arms, he didn't move away but lowered his eyes to avoid looking at her beautiful, curious face.

"Should I bind myself to him for a chance of safety? Is that fair to either of us?"

"It doesna seem so, nae," he said in a low, thick voice, still not looking up. He could feel her breath on him, the warmth of her body so close. It didn't irritate him the way others' being too close to him had. He no longer felt raw and exposed. He could hear her heart beating … or was it his?

He wanted to take her in his arms and kiss her. He knew he could love this woman and that above all else he had to guard himself against that.

Still …

He reached out to touch her, forgetting his vows to himself, forgetting Deware and everyone else. She'd nursed him back from death and continued to do so every day that he spent with her. He moved his fingers over her cheek and jaw, aching to trace the line of her mouth, to press his lips to hers. She closed her eyes and tilted her face to his touch.

New York Times bestselling author Paula Quinn lives in New York with her three beautiful children, three over-protective chihuahuas, and a loud umbrella cockatoo. She loves to read romance and science fiction and has been writing since she was eleven. She loves all things medieval, but it is her love for Scotland that pulls at her heartstrings.
My Thoughts
Cailean Grant never imagined that his life could or would be anything other than serving as part of the notorious team of mercenaries known as the Black Riders.
The only bright spot in his life coming in the form of his happy-go-lucky cousin, Patrick. Who has come to visit him. In the vain hope of bringing him home to their ancestral home at Camlochlin.
But when Patrick is shot as he is passing through the hamlet of Linavar. Cailean is convinced that Seth Menzie, a long time enemy of the Grant clan is to blame. And Cailean it seems is bent on revenge.
No matter the cost.
Until, that is...
He sees the sum total that his hasty rush to judgement mirrored back to him in the grief-stricken gaze of Seth's only daughter Temperance. As she holds her dying father in her arms. As the entire town looks on during the Christmastide feast.
But fate it seems is indeed a cruel mistress. When, as Patrick recovers from his wounds in the Black Riders' keep.
It is Cailean who is felled by an unknown assailant's arrow. Only to be rescued and nursed back from the brink of death by the one woman that he has hurt the most.
A woman who he comes to discover could be the only woman that he could ever love.
Temperance and Cailean present readers with a very bittersweet love story. One filled on both sides with loss, pain, and regret. But one in which hope for forgiveness and healing presides.
It is this hope in fact, that keeps one reading. Hoping and dare it be said "willing" that things work out for the two fated, yet wounded souls.
But Cailean and Temperance's story line is but one sweet and tender morsel, in a seemingly everfull pot.
There is also:
Temperance's betrothed William Deware's quest to find find and rescue his true love, Marion.
The plot by the loathsome Duncan Murdoch to claim Temperance and destroy Cailean by hook or by crook.
And...
Temperance's plot to have her revenge on the man responsible for the wrongful death of her father.
In short. This is a story so full of emotion, complexity, and heart, that you will never want it to end.
Reviewer's Note: Though this book is part of an ongoing series. It may be read as a standalone.
About Paula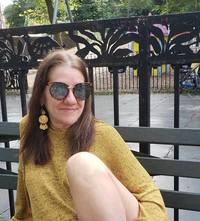 Paula Quinn is a NY Times and USA Today bestselling author of medieval and Scottish historical romance. To date, four of her books have garnered a starred review from Publishers Weekly. She has been nominated for Storyteller of the year by RT Book Reviews and every one of her books from the Children of the Mist series have garnered Top Picks from RT Book Reviews. She also writes fantasy romance under the pen name of Genevra Thorne. Her latest work, Scorched in the Rulers of the Sky series, a dragon-shifter romance is currently on pre order at Amazon.
Find Her: Web / Goodreads / Twitter



Buy The Book Here!