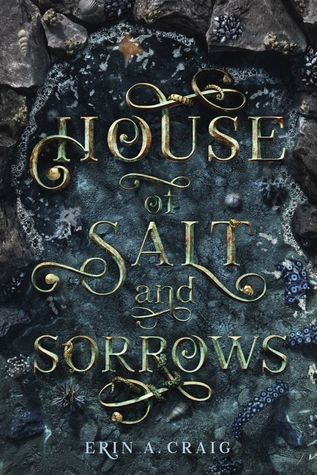 Title: House Of Salt And Sorrows
Author: Erin A. Craig
Length: 416 pages
Expected Date Of Publication: August 9, 2019
Publisher: Delacorte
Rating: 5 Stars
Get swept away in Erin A. Craig's mesmerizing
House of Salt and Sorrows.
As one by one her beautiful sisters mysteriously die on their isolated island estate, Annaleigh must unravel the curse that haunts her family. Be careful who you dance with. . . .
In a manor by the sea, twelve sisters are cursed.
Annaleigh lives a sheltered life at Highmoor, a manor by the sea, with her sisters, their father, and stepmother. Once they were twelve, but loneliness fills the grand halls now that four of the girls' lives have been cut short. Each death was more tragic than the last—the plague, a plummeting fall, a drowning, a slippery plunge—and there are whispers throughout the surrounding villages that the family is cursed by the gods.
Disturbed by a series of ghostly visions, Annaleigh becomes increasingly suspicious that the deaths were no accidents. Her sisters have been sneaking out every night to attend glittering balls, dancing until dawn in silk gowns and shimmering slippers, and Annaleigh isn't sure whether to try to stop them or to join their forbidden trysts. Because who—or what—are they really dancing with?
When Annaleigh's involvement with a mysterious stranger who has secrets of his own intensifies, it's a race to unravel the darkness that has fallen over her family—before it claims her next.
My Thoughts
House Of Salt And Sorrows
is a story that dips into many pots to be told. Seeming at first glance to be a lore based whodunit. Only to morph into full fledged paranormalcy somewhere around mid-book. Staying firmly rooted in that subgenre until its spectacular finish.
The story opens with Annaleigh, the main character, having to bury another of the 12 females of her line. In this case, her sister, Eulalie. Who was found dead at the bottom of a very high beach side cliff.
Though there have been other deaths, including that of her mother three other sisters. The fact that "the loveliest of the Thaumas roses was plucked so early by death." Is a burden to heavy to bear. For all it seems. Save the new and very young Duchess of the Salaan Islands. Their stepmother Morella.
Who in fact, has some very happy news that she can't wait to share with the world.
She is pregnant.
So eager is she to let the world know...
That she chooses to spill the proverbial beans in the middle of her stepdaughter's wake.
Hmmmm...
Suspicious much?
Well, it gets better.
It seems that not only is her pregnancy a boon for the female rich bloodline of her husband. (She is sure that this offspring is male.)
But it is also the perfect reason for the family to cut short the customary mourning period for poor Eulalie.
And get their party on.
Starting with a birthday ball for triplets Rosalie, Leonore, and Ligeia.
Complete with new dancing slippers for all the girls, and a very new take on a very old story for the reader.
The 12 Dancing Princesses?
Give or take a few?
Perhaps.
While this plot twist seems a little iffy at the outset. One only has to wait a bit for all of the elements of curses, gods, murder, new people, ghosts, and plots to marry and simmer.
And voila!!!
Be still my heart utter YA deliciousness!
One is never sure who to trust. If it's safe for the budding romances that dare to bloom. Or who will ne the next to die.
The one certainty that this read does provide however.
Readability.
The characters, plot, and premise provide readers of any age with a tale complex enough to engage the mind. And characters tailormade to inspire both ire and compassion in many a heart.
And the ending...
Let's just say...
Disney could take lessons!!!
About Erin
Erin A. Craig has always loved telling stories.
After getting her B.F.A. from the University of Michigan, in Theatre Design and Production, she stage managed tragic operas with hunchbacks, séances, and murderous clowns, then decided she wanted to write books that were just as spooky.
An avid reader, a decent quilter, rabid basketball fan, and collector of typewriters, Erin makes her home in Memphis, TN with her husband and daughter.
She is represented by Sarah Landis at Sterling Lord Literistic.
Find Her: Goodreads / Facebook / Web / Twitter / Instagram
Buy The Book Here