Title: Coffee Days, Whiskey Nights
Author: Cyrus Parker
Format: eARC
Length: 176 pages
Publisher: Central Avenue Publishing
Expected Date Of Publication: 9/8/20
Rating: 5 Stars
Coffee Days, Whiskey Nights is a collection of poetry, prose, and aphorisms that juxtaposes the hopefulness a brand new day can bring with the lingering thoughts that often keep us up into the late-night hours. A lot can happen between the first sip of coffee and the last taste of whiskey, and this book takes a look at the way a single day can change our outlook on everything from relationships with others, to our relationships with ourselves, and everything in between. Ultimately, coffee days, whiskey nights illustrates that no matter how hopeless we may feel at the end of the day, a new one is only a few hours away.
Please enjoy this quote from...
Coffee Days, Whiskey Nights
by
Cyrus Parker


My Thoughts
Coffee Days, Whiskey Nights
is a beautiful collection of life.
Experience, thought, utterance, and struggle.
Both lived and and not. Pondered and not. Conscious and not.
Day versus night. Friend versus foe.
Win versus loss.
In a war where one is never really sure which side is the right one.
Though there are very somber and sometimes triggering topics discussed among this book's pages.
Their treatment is one of honesty, clarity, ownership, and hope.
This is a book that allows one to see that while we may want to run from the darker aspects of life.
To the light, sound, and noise of distraction.
There is yet something to be said for having the bravery.to explore the pain, uncertainty, even the destruction found in those shadowed places.
In order that one might gather the broken shards of expectation, disappointment, betrayal, and hurt.
Sit with them in the darkness.
And after a time.
Integrating them into one's self and daring to refashion that brokenness into a solid and shining promise of self acceptance and love.
On which one can build a foundation for a better and more stable tomorrow.
Thank you to Netgalley and author, Cyrus Parker for their provision of the review copy of the aforementioned work. Upon which this unbiased critique is based.
About Cyrus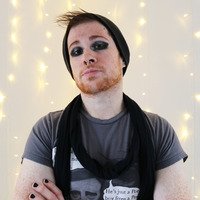 Cyrus Parker is a non-binary poet and storyteller, as well as the author of multiple collections of poetry, including DROPKICKromance and masquerade. Hailing from a small coastal town in New Jersey alongside wife and poetess Amanda Lovelace (as well as their cats) Cyrus can usually be found at local coffee shops not writing when they should be, or at home sipping the occasional glass of whiskey while lamenting over the cancellation of Marvel's Jessica Jones.
Buy The Book Here