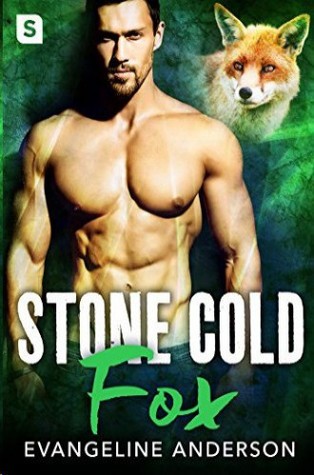 Title: Stone Cold Fox
Series: (Cougarville #3)
Author: Evangeline Anderson
Format: eARC
Length: 240 pages
Expected Date Of Publication: August 1, 2017
Publisher: Swerve:
Rating: 4.5 Stars
Cougarville's mechanic, and resident Alpha fox, shelters a mysterious woman who ignites his protective animal instincts when evil forces try to tear them apart.
Jo Ferrell has been cast out of her home for reasons she doesn't understand. The grey streak in her hair is gone, her body is younger, and there's an ominous shadow chasing her. With nowhere else to go, Jo finds shelter in a shed whose owner she wants nothing to do with—but he's too much to resist.
Reese Cooper has never felt a pull towards a woman like he does towards Jo and his Fox is desperate to claim her as their mate. After offering her a place to stay, Reese finds it difficult to resist his beautiful new roommate. But when dark magic threatens their happiness, Reese will use all of his strength to protect the woman he loves…if he's not too late.
Stone Cold Fox
is a fun, sexy, exciting read that will make readers want to revisit Cougarville again and again
.
*Author's Note: Though I have tried to handle the subject sensitively, certain events in this book may make anyone with a history of past abuse upset. Please read responsibly.*
Click the following links to see my reviews of:
Still need more?
Follow the link below to the Macmillan Audio excerpt
of


My Thoughts
The sizzlingly sexy, supernatural, shifters of Cougarville are back for a third time. This time telling the story of town mechanic and fox shifter, Reese Cooper.
Finding a scared but beautiful woman hiding in one's shed usually doesn't bode well for the upturn in your love-life. Unless, of course, said beauty is the one woman that you have sworn not to touch. But whom the trickster known as fate, along with the goddess Lady Moon have deemed your one true mate.
This is the fate that Reese Cooper faces in the scintillating and utterly readable
Stone Cold Fox
.
For her part. Leading lady, Jo Ferrell, is nothing short of a miracle of resilience. A woman determined to live her life unafraid. In spite of the many abuses and injustices that she has endured.
A woman unaware of her true worth.
A woman waiting to both give and receive love on her own terms.
Stone Cold Fox
is a book that brings so much more to the literary table than just a good Paranormal Romance.
Daring to tackle such sensitive subjects as rape, the honor and respect of female sexuality, and the reclaiming of one's sexual identity. This story is one that strikes at the hearts and minds of readers by addressing very real world issues. While still managing to wrap said topics in a very fantastical package.
As far as stories go...
This one is pretty close to perfect.
With only exception being a decided lack of detail surrounding the baddies of the story, and their rather nefarious intentions toward leading lady, Jo.
Said short coming is one that may be quickly and enjoyably remedied by simply reading books 1 and 2 in the series.
This story and the one's preceding it offer a unique and affirming take on the shifter mythos. A place where both heroes and heroines save the day. Hearts and minds fit together like keys in locks, and every "happily" is a truly transformative experience.
Buy The Book Here


About Evangeline