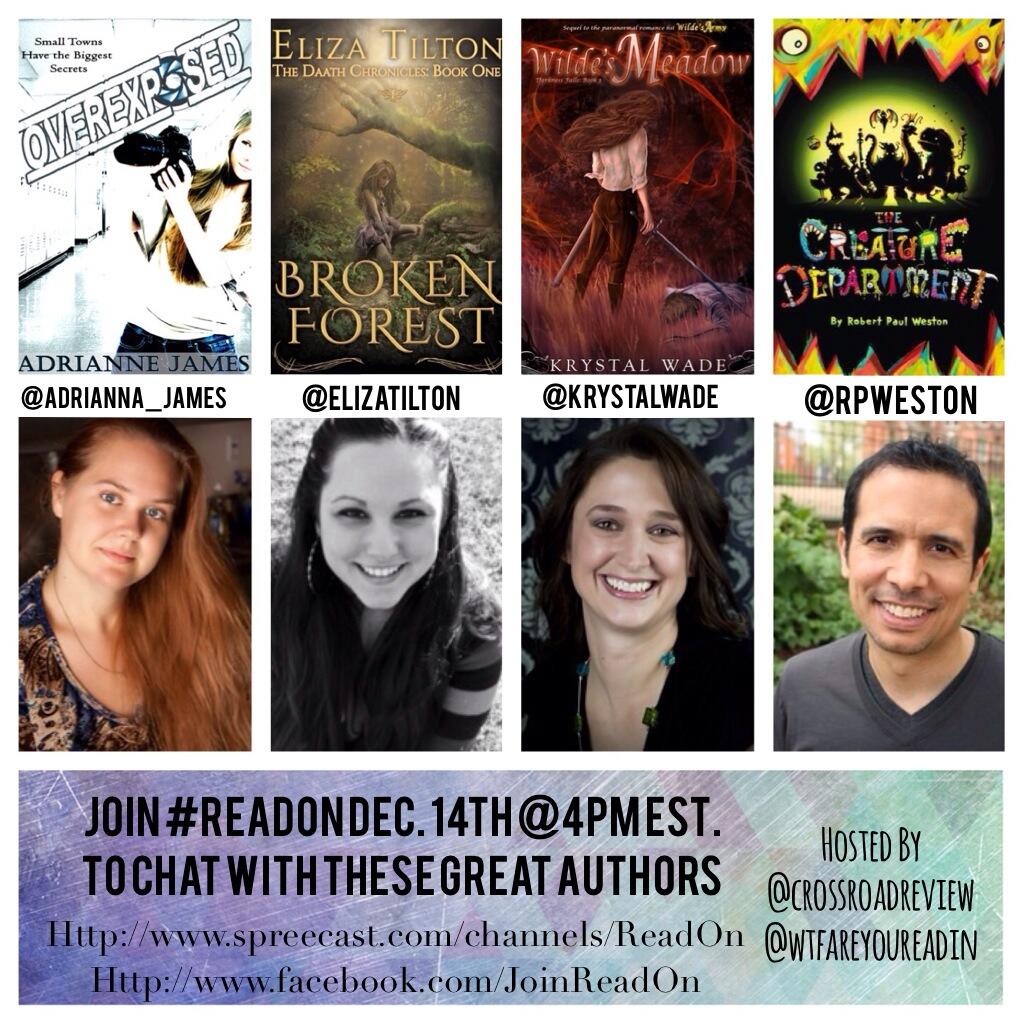 Join us today while we have a great Q and A with these authors! And don't forget to enter to win!



Adrianne James

@Adrianne_James

Growing up, Adrianne couldn't get her hands on enough books to satisfy her need for the make believe. If she finished a novel and didn't have a new one ready and waiting for her, she began to create her own tales of magic and wonder. Now, as an adult, books still make up majority of her free time, and now her tales get written down to be shared with the world.





During the day, Adrianne uses her camera to capture life's stories for clients of all ages and at night, after her two children are tucked in bed; she devotes herself to her written work. Adrianne is living the life she always wanted, surrounded by art and beauty, the written word and a loving family.





As a young adult and new adult author, Adrianne James has plans to bring stories of growing characters, a little romance, and perhaps a little magic and mythology down the line for her readers to enjoy.
Facebook | Twitter | Goodreads | Website



In the tiny town of Willowspring, just about nothing ever happens except for layoffs, hockey games, and your average melodramatic teenage angst.





But that was before.





Vi, Ashley, and Macy are just trying to make it through the school year without one more humiliation when they team up for a simple photography assignment: create a story through a series of photographs. Can't be too much trouble, right?





Wrong.





The shutterbugs happen upon Willowspring High School's darkest secret. When everything around them starts to crumble after trying to do the right thing, their only hope is to stick together.

(
5Stars
This one I couldn't wait to read! I found out that the cover was made by the author! So surprised! Going into this book I wasn't sure what I was going to get. But, I was surprised not only by the cover! But, by what lay within the pages! It is wonderful, great, knock your socks off interesting! I finished this one in half a day as I couldn't stop reading it! The plot was wonderful and the characters and story were so real. Vi is such a great character with a love of photography I instantly loved her. Her passion to get real shocking news on film just made her a great main character in this book. For a stand alone this book would also make a great series! Cant wait to get this in print!



Eliza Tilton

@ElizaTilton

Eliza graduated from Dowling College with a BS in Visual Communications. When she's not arguing with excel at her day job, or playing Dragon Age 2, again, she's writing. Her stories hold a bit of the fantastical and there's always a romance. She resides on Long Island with her husband, two kids and one very snuggly pit bull.
Facebook | Twitter | Goodreads | Website



Hopeless he'll never be more than the boy who didn't save his brother, 17-year-old Avikar accepts his life as the family stable boy, trying to forget the past. But when his sister, Jeslyn, is kidnapped, the thought of losing another sibling catapults him on a desperate quest. With his best friend by his side, and using the tracking skills he learned from his father, he discovers Jeslyn has been taken, kidnapped by one Lucino, the young lord of Daath, a mystical place thought only to exist in fables.





And Lucino has plans for Jeslyn.





His shape-shifting brethren feed off the auras of humans, and Jeslyn's golden hue is exactly what Lucino needs to increase his power. The longer it takes Avikar to reach her, the more entranced she becomes with Lucino's world, and the harder it will be for Avikar to set her free.





He failed his family once. He won't fail again.
5 STARS
This one was a fast paced fantasy novel. And it was great! From action to action and yes to more action this one will keep you on the edge of your seat until you read the last page. This book is filled with shape-shifting, Auras, and more! And is deff for those who love fantasy!
Krystal Wade

@KrystalWade

Krystal Wad

e can be found in the sluglines outside Washington D.C. every morning, Monday through Friday. With coffee in hand, iPod plugged in, and strangers - who sometimes snore, smell, or have incredibly bad gas - sitting next to her, she zones out and thinks of fantastical worlds for you and me to read.

How else can she cope with a fifty mile commute?

Good thing she has her husband and three kids to go home to. They keep her sane.



Happy endings are hard to find, and even though Katriona is in the middle of a war with someone who's already stolen more than she can replace, she aches for a positive future with her Draíochtans.





Armed with hope, confidence in her abilities, and a strange new gift from her mother, Kate ventures into the Darkness to defeat a fallen god.





Losses add up, and new obstacles rise to stand in the way. Is the one determined to bring Encardia light strong enough to keep fighting, or will all the sacrifices to stop those who seek domination be for nothing?
5 STARS
This was one of the first series that I had gotten in print by the author. I got to give away an entire set of signed copies. I was then very happy to receive a signed set for myself. From some giveaway. So I was over joyed when the author decided to come on our show. This series is amazing! Its a story of finding your true self and standing up for those in need. Its also a very nice romance between two people that were worlds apart. This is a deff must read series!! For those who love fantasy and the old war of Good vs. Evil!



Robert Paul Weston

@RPWeston




Ahoy. This is my small, oddly-shaped island in the GoodReads archipelago. You're welcome to surf, swim in the lagoon, or stroll along the pier (where they sell prawns and whelks by the cupful). If you'd like to keep things topical—as well as tropical—head down to the beach and sling yourself in a hammock with a good book. One of these, perhaps...





My first novel,

ZORGAMAZOO

, won the 2011 California Young Reader Medal, the 2010 Silver Birch Award, and the 2009 Children's Choice Award. If you've had a bit too much sun and crave something darker, try my hardboiled fairy tale,

DUST CITY

. It was shortlisted for the 2011 Edgar Alan Poe Award and the 2011 Sunburst Award. My newest novel-in-verse,

PRINCE PUGGLY OF SPUD AND THE KINGDOM OF SPIFF

, is out now from Penguin/Razorbill and

THE CREATURE DEPARTMENT

emerges from its secret underground lair in November 2013.





I live in London, England, which is also on an island.







A hidden laboratory…





A brilliant invention…





A team of quite unusual creatures…





But can they save the department?





Elliot Von Doppler and his friend Leslie think nothing ever happens in Bickleburgh, except inside the gleaming headquarters of DENKi-3000—the world's fifth-largest electronics factory.





Beneath the glass towers and glittering skywalks, there's a rambling old mansion from which all the company's amazing inventions spring forth. And no one except Uncle Archie knows what's behind the second-to-last door at the end of the hall.





Until Elliot and Leslie are invited to take a glimpse inside.





They find stooped, troll-like creatures with jutting jaws and broken teeth; tiny winged things that sparkle as they fly; and huge, hulking, hairy nonhumans (with horns). It is unlike anything they've ever seen!





But when Chuck Brickweather threatens to shut down the DENKi-3000 factory if a new product isn't presented soon, the creatures know they are in danger. And when Uncle Archie vanishes, it's up to Elliot, Leslie, and every one of the unusual, er, "employees" to create an invention so astonishing it will save The Creature Department.






5 STARS
Well for this one my daughter was glad to see come in the mail. I guess she had heard about it from school. So when she seen it she grabbed it and I didn't see it for three days. She read it and shared it with her class. I finally got a hold of it and I was blown away! From the cover to the creative art work on the pages this story and plot will grab any child's imagination.


"*I received a copies of these books for free to review, this in no way influenced my review, all opinions are 100% honest and my own."
Disclaimer: Thanks to Goodreads and Amazon for the book cover, about the book, and author information.
a Rafflecopter giveaway