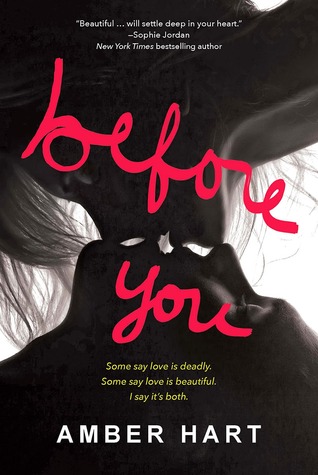 Title: Before You
(Before and After #1)
Author: Amber Hart
Format: ERC
Length: 320 pages
Publisher: KTeen
Release Date: July 29, 2014
Rating: 4 Stars

Some say love is deadly. Some say love is beautiful. I say it is both.

Faith Watters spent her junior year traveling the world, studying in exquisite places, before returning to Oviedo High School. From the outside her life is picture-perfect. Captain of the dance team. Popular. Happy. Too bad it's all a lie.

It will haunt me. It will claim me. It will shatter me. And I don't care.

Eighteen-year-old Diego Alvarez hates his new life in the States, but staying in Cuba is not an option. Covered in tattoos and scars, Diego doesn't stand a chance of fitting in. Nor does he want to. His only concern is staying hidden from his past—a past, which if it were to surface, would cost him everything. Including his life.

At Oviedo High School, it seems that Faith Watters and Diego Alvarez do not belong together. But fate is as tricky as it is lovely. Freedom with no restraint is what they long for. What they get is something different entirely. -Goodreads



My Thoughts

This book is really engrossing, but not for all the reasons that seem to shout at one upon first glance.
It is very clear that leading lady Faith has more than a few skeletons in her oh so organized closet. The thing is, she is just waiting for someone to rifle through said closet, and help her to come to terms with the parts of herself that aren't so fit for public consumption.
Enter Diego, the wild, passionate, Cuban, with scars and tattoos, who seems to live life unafraid to show the world who he is.
Ah what she doesn't know...
Diego may seem worlds away from her safe, suburban, life as a preacher's daughter, but he has known the pain of loss, and now lives with the fear of letting someone in.
The same fear that consumes Faith.This is a great story, One of the best things about it being that Faith is willing to go the extra mile to be with Diego, even though it may mean that she is taken down a few rungs on the social pedestal that she has allowed herself to be placed on.
The whole "we have to see each other in secret thing" is completely unnecessary given the fact that this is set in 2014 and not 1912. There is also the drama of the fact that Diego's old life catches up with him in ways that are dramatic enough on their own.

Other than the secret lover portion of the story line, there are no missteps to be had.
The supporting cast is lively, interesting, and relevant. The pacing is just slow enough to allow things between Faith and Diego to progress naturally, without boring the reader to tears, and the plot twists are first rate.
There is also the added jewel of romance and connection/versus sex.
With both characters being old enough to elevate this book from YA status, safely into the steamier realm of NA, it would have been very easy for our lovebirds to take the sexy way out.
Thankfully, this is not the case here.
Instead, we find two people who choose to explore each other's hearts and minds, much more so than their bodies.
That is not to say that there are not a lot of up close and personal moments to be had, but they are more of the tension building variety.

This book also does a great job of answering the call for diversity in NA/YA.
Readers are given a first hand peak into Diego's world...good, bad, and muy caliente!
This is a story that readers can't help falling head over heels for, and one that if given half the chance...will capture your heart.