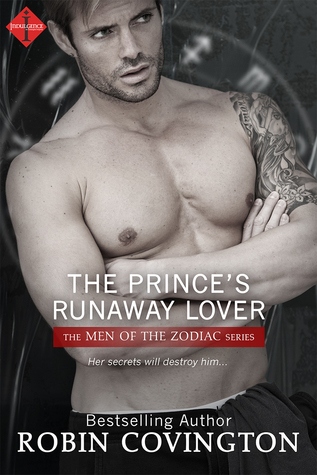 Title: The Prince's Runaway Lover
(The Men Of The Zodiac #7)
Author: Robin Covington
Format: ERC
Length: 170 pages
Publisher: Entangled/Impulse
Rating: 3 Stars

Crown Prince Nicholas Lytton was never supposed to be ruler of Callanos. He was the "spare to the heir," pursuing a decadent life of the rich and royal—extreme sports, physical pleasures, and glorious irresponsibility. Until his brother died. Now Nick is to be coronated king, and no one believes he's ready.

The best way to secure his crown is to do the unthinkable...find a queen.

While Isabel Reynolds works in the palace gardens, she has no desire to draw the attention of the way-too-flirty, would-be king. For she's not the woman everyone thinks she is. Even if she wanted—or was tempted by— the promise of love, it would only end in disaster. Because while Isabel may be able to catch a king, her secrets would only destroy him... -Goodeads


My Thoughts
This is a book that could very easily be dismissed as formulaic if not read all the way through.
Prince Nicolas at first glance, is a very convincing playboy.
It is quite the welcome change, when his restless energy is harnessed for good and he stands up to his cabinet in later chapters.
The more that one comes to know the honest, forthright, and down-to-earth man behind the title. The more one longs to see him make his version of "happily ever after" a reality.


Isabelle's role in the story gives it the realism that it needs. The tragedy of her past, and the threat that it poses to her future, gives this read the emotional depth needed to draw readers toward the idea of Nicolas an Isabelle as an "against all odds couple".

The romance that these two share is hot, passionate, and raw. This works so well because readers spend most of the read unsure that something lasting is even possible for these two.
It is in fact, the intensity of their relationship which helps this story find it's feet.
The only negative found here, lies in the fact that there is no other prospect for Nicolas. This singularity of focus makes his fall for Isabelle somewhat predictable.

This is a very sweet, steamy, and fast moving Cinderella-story. While it is true that it is plagued with a few pitfalls plot-wise. It is still a nice romantic escape.


About Robin: