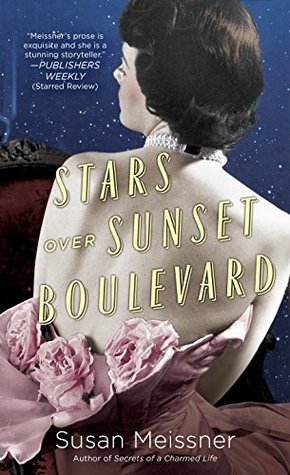 Title: Stars Over Sunset Boulevard
Author: Susan Meissner
Format: eARC
Length: 400 pages
Publisher: NAL
Rating: 4 Stars
In this new novel from the acclaimed author of Secrets of a Charmed Life, two women working in Hollywood during its Golden Age discover the joy and heartbreak of true friendship.

Los Angeles, Present Day. When an iconic hat worn by Scarlett O'Hara in Gone With the Wind ends up in Christine McAllister's vintage clothing boutique by mistake, her efforts to return it to its owner take her on a journey more enchanting than any classic movie…

Los Angeles, 1938. Violet Mayfield sets out to reinvent herself in Hollywood after her dream of becoming a wife and mother falls apart, and lands a job on the film-set of Gone With the Wind. There, she meets enigmatic Audrey Duvall, a once-rising film star who is now a fellow secretary. Audrey's zest for life and their adventures together among Hollywood's glitterati enthrall Violet…until each woman's deepest desires collide. What Audrey and Violet are willing to risk, for themselves and for each other, to ensure their own happy endings will shape their friendship, and their lives, far into the future.
My Thoughts
Stars Over Sunset Boulevard
brings readers face to face with the glitz and glamour of 1930's Hollywood.
Told in both present-day and historical perspectives. The story centers around the lives of Violet Mayfield and Audrey Duvall. When a chance meeting between, the two, outside the movie studio where they both work as secretaries results in a fast friendship. The adventure for both characters and readers alike, begins.
As with all great friendships and stories, there must be a conflict.
The one that plagues our players in this case happens to:
A. Be named Bert.
B. Be infatuated with the vivacious Audrey.
Which in turn becomes a problem because:
C. Audrey has no interest in the lovestruck Bert.
D. Violet seems to crave poor Bert more than air.
Let the scheming commence!
Acting as a wonderful backdrop of sorts, is all of the excitement and activity surrounding the filming of Gone With The Wind. This story element acts as an excellent filler when things between the girls wane a bit, and the story threatens to drag.
The story's progression moves forward in time, leaving the cinematic diversion that Gone With The Wind provided, and focusing more on the changes in the relationship between Violet and Audrey.
It is here that readers are made privy to the effects of earlier deceptions and secrets on the lives of both women, as seen through the scope of a much wider lens.
When reading this story, it is very important to keep in mind that at the heart of things, this is essentially relationship based Women's Fiction.
That said, this is a very well put together work. One filled to overflowing with emotionally charged highs, angsty lows, and more than a little drama.
Those lovers of old Hollywood will be very impressed with the world crafted by Susan Meissner. She is very careful to provide readers with a historically correct depiction. While still managing to capture the vibrancy and innocence that characterized the period.
There is really only one real detractor to be found in this story.
The fact that the driving force behind the entire story centers around a man.

Given the scope, creativity, and detail put into the story as a whole. Such a basic core motivation seems a bit too obvious.
*You will note that very little reference has been made to the 2012 portion of the storyline. The reason for this being these portions of the book serve as supports and bridges to happenings in the historical portion.