Tite: That Scandalous Evening
(Governess Brides #1)
Author: Christina Dodd
Format: eARC
Length: 360 pages
Publisher: Avon Books
Rating: 2 Stars
New York Times
bestselling author Christina Dodd spins the captivating tale of a nobleman whose path crosses again with the one woman he absolutely cannot resist . . . .
A Disastrous Season
A simple statue began the scandal.
A Lady Concealed
An innocent English miss conceived of it, her hands gliding across the clay, delineating each smoothly defined muscle and sinew, creating a sculpture of the man she worshipped. When the likeness was exposed, along with Miss Jane Higgenbothem's secret
tendre
for Lord Blackburn, the ton's gleeful contempt sent the lady back to the country in disgrace.
A Gentleman Revealed
Now, a decade later, she's back in London, as a chaperone to her beautiful niece. But to Blackburn, Jane's unwitting model, the cool, reticent spinster is still a challenge. She once made the arrogant rake a laughingstock; so why is he tempted to revive an affair that almost began so long ago, on that scandalous evening . . . ? -Goodreads
My Thoughts
While it is true that the English ton can, and have come up with more reasons for shaming and ostracizing poor hapless maidens than almost any other social group in history. The reasoning for what takes place in Christina Dodd's That Scandalous Evening, has to be the most ridiculous yet.
It appears that a very young and very infatuated Jane Higginbotham takes it upon herself to sculpt a very life like statue of her crush. One Lord Blackburn.
So life like in fact, that Blackburn is believed to have posed for it.
Except that is, for one small detail. Ahem!
Blackburn, it appears is scandalized beyond measure by her less than accurate depiction of his manhood. So, he says nothing and does even less; when poor Jane is left to rot on the social vine.
Ten years have passed, and Jane has become a companion to her niece Adorna. Who, the epitome of grace and beauty, is set to take The Season by storm.
Enter Blackburn.
War hardened and suffering from a war related injury to the eye. The last person that he ever expects to see across a crowded ballroom is Jane.
This is a story that could have been so much more. But as is often the case with first novels. It never feels as though the author knows exactly where this book's destination is.
The most glaring reason for this lack of direction?
The flimsy nature of the story's central plot.
To ruin someone's life over a sculpture?
Really!
Making matters worse, (As if there really could be a worse in this situation.) is the fact that Blackburn has feelings for the lady that he has wronged.
And so begins the cat and mouse of balls, seasons, and social propriety that is Regency Romance.
Things were spiced up for a bit by an intrigue based subplot, but for the most part, readers are stuck with pages upon pages of Blackburn, Jane, and Adorna.
This is a book that you put down and pick up several times,
praying for a betterment of story that never comes.
Reviewer's Note:
This is the first volume of the Governess Brides series. This series may be read as a collection, or on a volume by volume basis.
About Christina
Readers become writers, and Christina Dodd has always been a reader. She reads everything, but because she loves humor, she likes romance best.
A woman wants things like world peace, a clean house, and a deep and meaningful relationship based on mutual understanding and love. A man wants things like a Craftsman router with attachments, undisputed control of the TV remote, and a red Corvette which will miraculously make his bald spot disappear. So when Christina's first daughter was born, she told her husband she was going to quit work and write a book. It was a good time to start a new career, because how much trouble could one little infant be?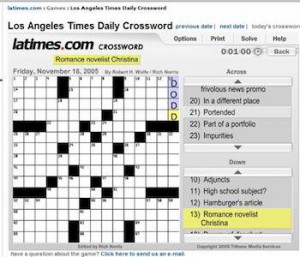 Ha! It took ten years, two children and three completed manuscripts before her first novel,
CANDLE IN THE WINDOW
, was published. In the twenty-two years since, her novels have been translated into 25 languages, won Romance Writers of America's prestigious Golden Heart and RITA Awards and been called the year's best by Library Journal. Christina Dodd herself has been a clue in the Los Angeles Times crossword puzzle (11/18/05, # 13 Down: Romance Novelist named Christina.) With more than 15 million of her books in print, Booklist praises her, "brilliantly etched characters, polished writing, and unexpected flashes of sharp humor that are pure Dodd."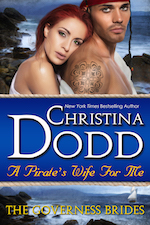 Christina's all-new, full-length
Governess Brides
historical,
A PIRATE'S WIFE FOR ME
, is out now for
Kindle
,
iBooks
,
Nook
,
Kobo
and in
paperback
! And starting in July, four of The
Governess Brides
will be repackaged with beautiful new covers.
In 2014, Christina's publisher, St. Martins Press, launched Christina's
all-new suspense series, Virtue Falls
, with a short story
THE LISTENER
and a full-length novel,
VIRTUE FALLS
, now out in paperback. The Virtue Falls series continues with a second short story,
THE RELATIVES
, and
OBSESSION FALLS
,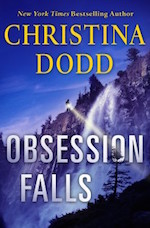 now out in
hardcover
and for
Kindle,

Nook

,

iBooks

,

Kobo
, GooglePlay. The third Virtue Falls novel, BECAUSE I'M WATCHING, will be out September 2016.
Please join Christina's
free mailing list
for book sales, book news, and entertainment brought right to your inbox! Simply fill out the form in the upper right corner with your name and email (Christina pledges to keep your information private), and you'll always know about the best in romance and suspense.
Join now!
Christina Dodd is married to a man with all his hair and no Corvette, but many Craftsman tools.