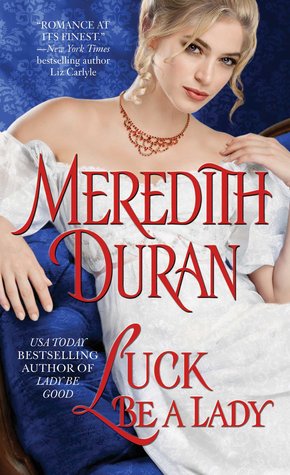 Title: Luck Be A Lady
Author: Meredith Duran
Format: Print
Length: 368 pages
Publisher: Pocket Books
Rating: 5 Stars
Romance sizzles between a famous heiress and an infamous crime lord in this fourth sexy novel in the Rules for the Reckless series from the USA Today bestselling author of Fool Me Twice.

The Wallflower

They call her the "Ice Queen." Catherine Everleigh is London's loveliest heiress, but a bitter lesson in heartbreak has taught her to keep to herself. All she wants is her birthright—the auction house that was stolen from her. To win this war, she'll need a powerful ally. Who better than infamous and merciless crime lord Nicholas O'Shea? A marriage of convenience will no doubt serve them both.

The Crime Lord

Having conquered the city's underworld, Nick seeks a new challenge. Marrying Catherine will give him the appearance of legitimacy—and access to her world of the law-abiding elite. No one needs to know he's coveted Catherine for a year now—their arrangement is strictly business, free from the troubling weaknesses of love. Seduction, however, is a different matter—an enticing game he means to ensure she enjoys, whether she wishes to or not...
My Thoughts
Catherine Everleigh is a woman on a mission. Never content to be a mere accessory to any man. This heiress is all about business. Her business, to be exact. Ironically, it is also a business that she must do the one thing that she dreads the most to save...
Nick O'Shea has never had the luxury of a life or business conducted under the auspices of legitimacy or respectability. A self-mad man, Nick may not be a stranger to the darker side of life, that does not mean however that he cannot aspire to more.
Luck Be A Lady is a book that is full of fire vim right out of the gate. Lady Catherine shows herself to be the strong, confident, and intelligent heroine that today's romance readers clamor for.
This does not mean that she is perfect, and it is in those flaws, that the best reading is to be found.
It is along those same lines, that Nick O'shea is drawn. They read almost like the light and dark sides if the same coin. Driven, opinionated, and stubborn people who are not afraid to fight for what they want...in business or in love.
This book is a welcome change for readers of period romances, in that it offers readers a much more even match in class. The struggle here is much less about gentry vs. commoner, than it is about criminal vs. legitimate. As such, there is room for more story because there is far less title mongering to be had.
Nick and Catherine are flawed together and separately, and thankfully for the reader, they know it.
They call each other out on their nonsense, have the most sparkling banter, and bring out the best in each other as time goes on.
Fiery in and out of bed, these two are a joy to read, and make book 4, the best of the series!
About Meredith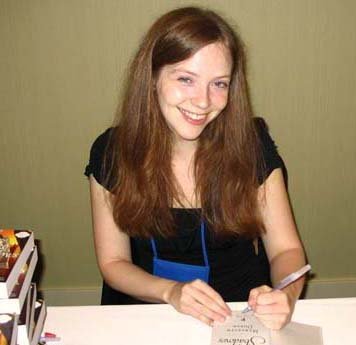 MEREDITH DURAN
is the author of eight previous novels, including
The Duke of Shadows
(winner of the Gather.com First Chapters Romance Writing Competition);
Wicked Becomes You
(included on the Woman's World List of Best Beach Reads for Summer 2010), and the
USA TODAY
bestseller
Fool Me Twice
. She blames Anne Boleyn for sparking her lifelong obsession with British history, and for convincing her that princely love is no prize if it doesn't come with a happily-ever-after. She enjoys collecting old etiquette manuals, guidebooks to nineteenth-century London, and travelogues by intrepid Victorian women. Visit her at MeredithDuran.com, or catch up with her on Twitter: @meredithduran and Facebook: AuthorMeredithDuran.
Buy The Book
Buy buttons for Luck Be A Lady:
The Giveaway!
Enter here to WIN!
Autographed Copies of
FOOL MY TWICE
LADY BE GOOD
LUCK BE A LADY
Winning is easy!
Just leave me a comment on this post,
or on my YouTube post.
(Links and video to be posted later)
Telling me if you want a GOOD GUY or a BAD BOY,
and why?
THE RULES
You must be at least 16 to enter.
You must leave me a valid email address for contacting you!
YouTube Entrants!
You must subscribe to my channel to WIN!