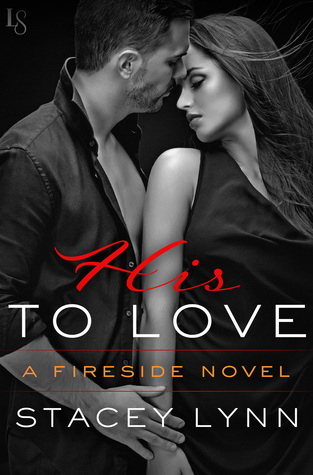 Title: His To Love
Series: (Fireside #1)
Author: Stacy Lynn
Format: eARC
Length: 285 pages
Publisher: Loveswept
Rating: 3.5 Stars
In the explosive debut of Stacey Lynn's irresistible Fireside series, a pair of estranged lovers are reunited by dangerous loyalties—and intoxicating desire.

Tyson Blackwell never saw it coming when his Mafia princess girlfriend dumped him and disappeared at the age of eighteen. He never forgot her, either, even after what happened next: the killing of his father, a Detroit PD officer, at the hands of one of her father's men. Tyson swore revenge, and now, ten years later, the kid who dreamed of a pro football career is a hard-nosed FBI agent, back in town to take down the Galecki crime family once and for all. But Tyson's mission gets complicated fast—because going undercover means seducing the only woman he's ever loved.

Gabriella "Blue" Galecki has been in hiding for a decade. She finally comes home to spend time with her terminally ill mother, only to receive a blast from the past when she runs into Tyson. His brooding eyes and electrifying touch still send chills down her spine. But as heir to the family empire, Blue has been promised to another. Caught in a web of deception, she is tempted to pull the trigger on the boldest risk she's ever taken: trusting Tyson with her life, her body, and her heart.

Includes a special message from the editor, as well as an excerpt from another Loveswept title. -Goodreads
My Thoughts
This story of second chance love against all odds is one that will make you believe that fate has a hand in forever.
Agent Tyson Blackwell is a man sure if two things.
He will never forgive the man who killed his father, and he will never forget the girl who stole his heart.
Mafia princess, Gabriella "Blue" Galecki wants nothing to do with the life and family that cost her the love that she held so dear at 18. She has distanced herself so completely from the life that she knew, that only the terminal illness of her mother is enough to coax her unexpected return.
Unbeknownst to Gabriella, things with her father and his organization have been anything but under the law enforcement radar, and her homecoming is just one more reason for their interest.
Interest that will bring her face to face with the man that her heart won't allow her to forget.
A man who has the power to destroy her from the inside out.
This book is one that is made or broken on the strength of the main characters and their interaction. Readers are given just enough insight into each person's back story to fill in relevant holes. Then its right into the relationship building you go.
The problem?
The relationship itself.
It's based on a lie. Tyson is lying to the woman that he is supposed to love more than anything, from the time that they reconnect on the plane. Sure, he has a very good reason. But you never really get the feeling, while the subterfuge is going on, that Tyson is all that conflicted about what he's doing.
That is, until he is confronted with his deceit, and has to own it.
Add to this, the fact that Gabriella's father is also trying to manipulate her into marriage to the man that he is grooming to fill his shoes as head of the crime family, and there is no doubt that this woman is the walking embodiment of a person stuck "between a rock and a hard place."
While it is true that the chemistry between Tyson and Gabriella between the sheets is a thing of beauty. The strength of said bond seems to wane, the farther they take things from the bedroom.
The only truly visceral connection to be had in this read, is the one shared between Gabriella and her newfound friends at the Fireside Grill. An aspect of this story that is treated as more of a setting, than a focal point worthy of carrying the series name.
There is no denying that this is a well written book...technically speaking. The story is cohesive, and the characters are likeable and very easy to follow. What this story lacks however, is the one thing that enjoyment of this work is predicted upon. Emotional connection between characters and readers. Which would be a given if readers were given more. More details about Tyson's work. More information about Gabriella's life away from her father. More of a chance to see what we as readers, and they as the players in this unfolding drama are fighting for. More...more...more!
Reviewer's Notes: My review of the above referenced work has not been influenced in any way by Loveswept or those acting on the publisher's behalf.
His To Love
is the first in a companion series that can be read in any order. It is strongly suggested, for the purposes of continuity however, that the series be read as intended.
Buy The Book Here