Title: Say No More
Series: (Sacramento #2)
Author: Karen Rose
Length: 544 pages
Format: eARC
Publisher: Berkley
Expected Date Of Publication: August 11, 2020
Rating: 5 Stars
Mercy Callahan thought she'd escaped the cult decades ago, but its long fingers are reaching out for her again in this electrifying novel in the Sacramento series by New York Times bestselling author Karen Rose.
Seventeen years ago. That was the last time Mercy Callahan saw Ephraim Burton, the leader of the twisted Eden cult where she was raised. But even though she escaped the abuse and terror, they continue to haunt her.
When her brother Gideon discovers new evidence of the cult's--and their victims'--whereabouts, Mercy goes to Sacramento to reconnect with him. There, she meets Gideon's closest friend--homicide detective Rafe Sokolov. From Rafe, she receives an offer she never knew she needed: to track down Ephraim and make him pay for everything.
But Ephraim, who had thought Mercy long dead, discovers she is in fact alive and that she is digging around for the cult's secrets. And now he'll do anything to take her back to Eden--dead or alive.
Please Watch The Thrilling Trailer
Say No More
My Thoughts
I am literally writing this review as I listen to this book on my Kindle. I have been up all night.
Spending hour after hour immersed in Mercy, Ephraim, and Gideon's world.
This story is at once complete within itself and a perfect continuation of the tale that began in Say You're Sorry.
With Ephraim Burton taking of the psychotic torch passed to his character at the end of the first book.
Leaving readers to travel further down the rabbit hole that is Mercy and Gideon's past in Eden.
The journey into Gideon's and Mercy's past is a difficult and often tragic one. The treatment of which is both compelling and riveting. Making the characters more human and more relatable as the pages turn.
The fact that the sister and brother, as well as all of their extended family are now coming together in the effort to protect her from the man that is more than determined to have her back at all costs.
Priceless!
Then there is the second part of the story.
The part that takes place inside Eden With Amos and Abigail.
And Amos' discovery of all of the betrayals lies, and murder that had been perpetrated by the people that he had believed that he could trust.
Now he knows that he must do all that he can to get his daughter out.
Alive.
In as much as this book is about dark and life altering pasts. It is more about hopeful and love filled futures.
With Mercy and Gideon daring to find their "happily ever after's" with people who, because they have shared in the same tragedy.
Know their pain on a more personal level.
Daisy for Gideon and Rafe for Mercy.
This is a much longer book then the 300+ that most readers may be used to. But the detail and fully expressed and detailed wholeness of the book and therefore its burgeoning series. Is one that will make you want to read it forever.
I would like to thank Berkley and NetGalley for the review copy on which my unbiased critique is based.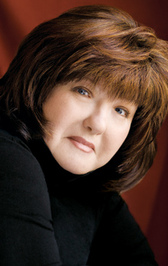 Author Karen Rose
Karen Rose is the award-winning, #1 international bestselling author of some twenty novels, including the bestselling Baltimore and Cincinnati series. She has been translated into twenty-three languages, and her books have placed on the New York Times, the Sunday Times (UK), and Germany's der Spiegel bestseller lists.
See Her Socially:
Web
/
Goodreads
/
Facebook
/
Twitter