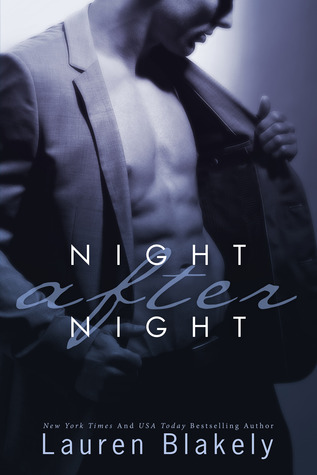 Title: Night After Night
(Seductive Nights #1)
Author: Lauren Blakely
Format: ERC
Length: 250 pages
Publisher: Lauren Blakely Books
Rating: 5 Stars
**Warning: Spare panties are needed...you're welcome.***

"You are being rewarded for turning me on. But we're doing it my way. You teased the f&*k out of me, and now I want to watch you squirm. Crawl up on my bed and get on your hands and knees."

Their world was sex, love, and lies.
He intoxicated her. Commanded. Consumed.
With a dirty mind and a mouth to match, Clay Nichols is everything Julia never knew she wanted and exactly what she cannot have. He walked into her life one night and unlocked pleasure in her that she never knew was possible. Possessing her body, captivating her every thought. Which makes him way too dangerous for Julia to risk her heart, given that she has a price tag on her head. She ran after one mind-blowing week with him, but now he's back, and determined to make her his own.
No matter the cost.

She was a sexy drug to him. Fiery, unforgettable, and never enough, Julia is an enigma, and Clay isn't willing to let her go without a fight. But she's got dark secrets of her own that threaten to destroy any chance of happiness. She's a wanted woman – the stakes are high, her every move is watched, and yet the lure between them can't be denied. Can two people burned by love trust again when desire and passion are met by danger at every turn?


A sensual, emotionally-charged erotic romance from the New York Times and USA Today Bestselling author Lauren Blakely...
Please note: This book is intended for 18+ due to dirty talk, light bondage, and lots of sexy scenes. This ebook edition also includes the prequel novella First Night, which precedes Night After Night. The sequel, After This Night, releases

May 12

and can be pre-ordered now.
My Thoughts
The chemistry that Julia and Clay share is undeniable!
Authoress Lauren Blakely has scored a definite home run with the scorching first installment in the Seductive Nights series.
The tables are turned a bit plot-wise; with Julia cast as the "oh so good bad girl" that straight laced Clay just can't get enough of.
She doesn't mean to be mysterious, secretive, and a liar...but life for Julia is just a bit complicated.
But...and there always is one.
From the moment that she met Clay, she knew that he was just a risk that she was just going to have to take.
For his part, Clay is the perfect "alpha male".
A successful man, sure of himself, and willing to take control both in and out of the bedroom.
As if that is not enough...he's a talker, ladies!
There is no simple grunts and groans when this man gets down and dirty.
He tells Julia what and where he wants her, and how much!
The sex in this read is hot and heavy...so if you are looking for a read with lots of build up that leads to a few lukewarm encounters, look elsewhere.
The sex takes the driver's seat for most of this read, with Julia's mysterious back-story running a
close second.
The deeper that one gets into the story, the easier it becomes to understand why this is such a perfect fit. The reader/book relationship has to be one based on the carnal in this instance, because the relationship between Clay and Julia has not matured past that point.
This book is a perfect one sitting read. It could be read as a standalone, but I don't recommend it!
Once you read the first book, you will have to have the next.
Don't worry! Buy links will be provided!
Lauren Blakely writes sexy contemporary romance novels with heat, heart, and humor, and her books have appeared on the New York Times, USA Today, Amazon, Barnes and Noble, and iBooks bestseller lists. Like the heroine in FAR TOO TEMPTING, she thinks life should be filled with family, laughter, and the kind of love that love songs promise. Lauren lives in California with her husband, children, and dogs. Her novels include Caught Up In Us, Pretending He's Mine, Playing With Her Heart, and Trophy Husband. She also writes for young adults under the name Daisy Whitney.
Lauren Blakely Goodreads: http://www.goodreads.com/author/show/6860216.Lauren_Blakely