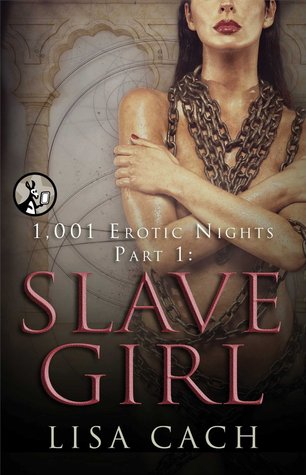 Title: Slave Girl: 1,001 Erotic Nights
Author: Lisa Cach
Format: ERC
Length: 138 pages
Publisher: Pocket Star
Rating: 2.5
From national bestselling author Lisa Cach comes an erotic, adventurous series about a slave girl with prophetic gifts. Nimia is to become her Roman ruler's concubine, until a ruthless barbarian prince steals her heart—and more. -Goodreads
My Thoughts
1001 Erotic Nights is a read that presents readers with quite the quandary for a rather large number of reasons.
While it is quite apparent from the outset that Nimia's status as a slave leaves her subject to the whims and folly of her master, King Sygarius.
A great number of her master's wishes concerning her go unheeded for much of the read.
Case in point: The No Touching Rule
King Sygarius has decreed that no one is to touch Nimia except him, but we are not out of the first chapter before she is being fondled by none other than the king's wife.
Said fondling is apparently just the start down the slippery slope to unsanctioned "deflowerment" for an all too eager Nimia.
It is, in fact Nimia herself who thumbs her nose at the "no touching" rule in the most flagrant sense; when she gives herself to the young barbarian prince, Clovis, just days before she is to be bedded by her king.
But one cannot hold her entirely responsible for her lapse given the fact that she had been ordered to "get close to Clovis' father in the hopes that she might glean information that would prove useful to King Sygarius during negotiations.
Confused yet?
Don't worry, it gets worse.
Not only do we find Nimia embroiled in the beginnings of an espionage type situation; there is also the search for her lost heritage to deal with.
This story is one of those that starts off as a very directed novella and quickly morphs into the unfinished beginnings of a much larger saga.
This turn of events direction-wise wouldn't be such a shock to the system if it did not mean a complete abandonment of the erotic side of things.
Given the fact that this is the first book in a serial novella; one would expect there to he more care given to character introduction, and repartee building, than the incessant hopping from plot element to plot element that we witness here.
Before you throw in the towel on this read however, remember that this is only the first installment, and therefore leaves much room for growth, focus, and improvement.